There are many story book apps available at App Store. So there is plenty of choice for a reader to select a good one.
Schneewittchen (Snow White) is really an interesting app. It is interactive and it has a good story to narrate. But it is a bit huge – 256 MB. Now it is not necessary for you to sit near your kid and narrate the story. It will take care of that duty as it is a speaking book. It is available in four languages – English, German, Russian and Ukrainian.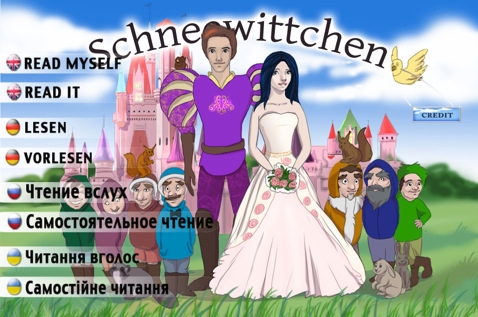 rel="nofollow>
Snow White is a fairy tale, we all heard in our childhood. This app is based on the Brothers Grimm's version of this immortal story. To impress kids this app is decorated with amazing artwork and I think these hand – written illustrations should have been done by professionals. To enjoy the full effect of the story and the images, it is available in HD.
Apart from the story, this app is loaded with puzzles and games and they are embedded inside the story. They can help kids in building their imagination. The readers can increase the font size and the app is also compatible to connect it to the iPad or TV, using the Apple connector to get the story of Snow White from a much bigger screen.
Yes. Schneewittchen is a well known story. But it is worth to get it again, when it is available with the sophistication of technology. This app reached App Store few weeks back and it is available for just $1.99. Usually book apps cost a little more as they have plenty of artwork. I should admit that Schneewittchen comes comparatively cheaper. Even story books would cost you more. But it seems to be a time-limited offer.  So hurry and get it.
Rating: 4.5/ 5

rel="nofollow>