Venice is a beautiful city in Northern Italy that was widely known for tourism. I haven't been there anytime to feel the Venice culture and to try out their food, but there is a very nice app about Venice that I discovered recently portrays the culture and its splendid look of the beautiful city. The app name is Magical Venice from Roberto Soncin Gerometta.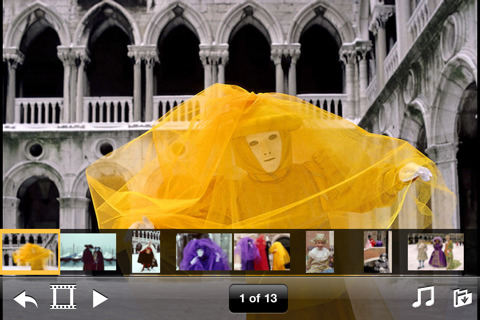 rel="nofollow>
The beautiful photographs listed in the app are taken by Roberto who is a Venetion born photographer for almost 25 years. The background music is accompanied by Vivaldi's Four Seasons, is so wonderful to hear while watching the images in slideshow. Magical Venice is an app about exploring the city Venice in terms of its culture, construction, people. If you look at each of the photos you will realize the real color and culture of Venice. The app contains 8 different galleries with each one have its own flavor. All the 8 galleries constitute more than 100 photos of Venice with description on all the photographs.
The galleries can be watched either in Landscape or Portrait mode and users can watch the photos as a slideshow or by dragging the photo from left to right to slide. The background music can be turned OFF or ON with a touch of the music button at the gallery bar. Users can also save the photos to the Photo Album that can be used as a wallpaper. I must admit the quality of the photographs are amazing but I am not sure how does it look when its seen with Apple TV using Air Play (from Photo Album). All the photos has its own description; to get the description tap on the page number button, which will notify the description of the photo.
After using this app, I got the feel to visit and check out all the beautiful places in Venice. To me, Magical Venice is an impressive work to help spread the word about Venice – the beautiful city.
Cost: $0.99
Rating: 4/5

rel="nofollow>