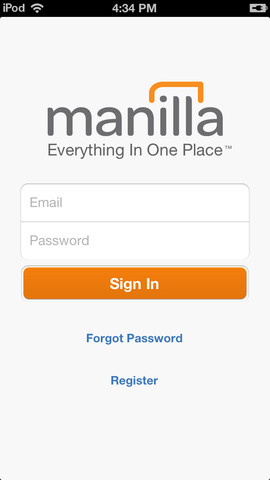 Isn't it quite hard to keep track of due dates and remember to pay bills on time? What would happen when you are caught up in the flurry of work and home activities and fail to notice the bills on your table? You won't have a choice but to pay them with a late fee. Won't it be helpful if there was some way to receive timely reminders and manage all your accounts with ease? Here is an app named "Manilla – Bills and Accounts Manager" which lets you keep track of bill payments. 
About the app:
Manilla – Bills and Accounts Manager is a very helpful app that lets you organize all your bills and accounts under one personal account. With this app you can organize your documents like bills, statements, notices and offers. You can manage your accounts under different categories like finances, subscriptions and travel rewards. The app gives you automatic reminders that help you pay your bills on time.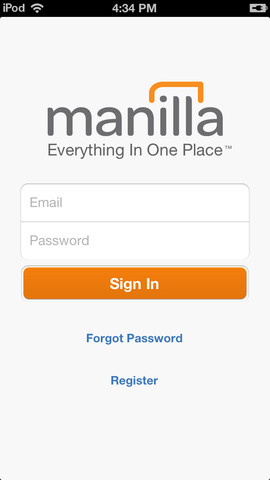 Working of the app:
Once you install the app, you need to register by creating an account name and password. The app supports more than 3000 account providers and retailers. The 'Documents' tab lets you view the list of various service providers. You can easily add new accounts to your account name by selecting the services/providers from the list. Each time you add an account, you can view its details in the 'Accounts' tab. You will receive a text or mail reminder along with the details of the payment and the due date. Click on the 'Reminders' tab to view the list of all notifications. The app allows you to enable the auto-pay option that makes your job of paying bills even easier. There are no reminders provided for the accounts that are set to auto-pay.
Special features of the app:
You can view, download, print and save each bill statement in your device. Manilla – Bills and Accounts Manager keeps all your payment and account details secure and it does not store your passwords. Manilla's practices are verified by top security agencies like TRUSTe, Verisign and McAfee.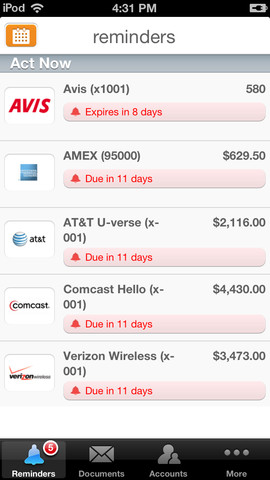 Manilla – Bills and Account Manager is a great app to keep your bills organized and ensure that you don't have to make unnecessary payments. The apps' user interface is well-designed and easy to use. The app greatly reduces the time spent on paying bills, as you just have to login once instead of opening multiple website links. The app could have been made available in a few more countries.
Manilla – Bills and Accounts Manager is a free app that requires iOS 5.1 or later versions.
Price: Free
Rating: 4/5