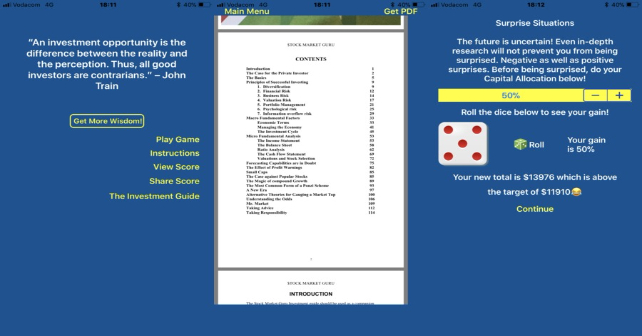 Have you always wanted to invest in the stock market but could never seem to take that first step towards choosing what you should invest on? Perhaps, you only needed someone or something to teach you. $tock Market Guru takes things to newer heights by offering you an investment game that would really educate you about how the economy, stock market, and investing works. It complements this by giving you plenty of learning materials and quizzes about finance and investing in general.
After you launch the app, you'll be greeted by a random quote about investments and finance that would really serve to motivate you and even gain an invaluable monetary wisdom in the process. You can either play the quiz game right away, view instructions, or start with the Investment Guide first.
The latter is particularly noteworthy as it offers golden bits of knowledge that will really help you widen your knowledge regarding. In this way, you'll be able to easily apply what you've learned (rest assured that you'll learn plenty) on real-world stock market settings. This is also why the Investment Guide is only available in the Pro version of the app.
To start off, you are given $10,000 dollars as initial capital. The game gives you the objective of making the said amount tenfold. All of your gains are ultimately based on whether you are able to answer the finance and investments questions in the quiz correctly. The questions are excellent, to say the least, and it's apparent that they were made by professionals and experts in the field.
Once you answer a question correctly, this doesn't necessarily mean that you can immediately get an increase in earnings (positive returns). Instead, this only puts the odds of getting positive returns in your favor. Why the positive returns? Well, this is because before answering a question, you are asked to allocate a certain amount of your capital that would be put at risk.
However, it's not all about answering the questions correctly, though, because as you progress, you might encounter mini-events (for example, situations will arise when the in-game market would become volatile and uncertain) that would require you to make decisions that could either decrease or increase the total amount of money that you have. After you attain your goal of $100,000, you finish the game. Otherwise, you might end up losing all your capital, and it's game over once that happens.
For all its seeming simplicity (especially in its interface), the app would be able to exceed any user's expectations with the truly savvy questions that it has. Content-wise, it is also made unique by the vast amount of information that users can get from its own Investment Guide. Taken as a whole, $tock Market Guru lives up to its name.
Price: $ 9.99