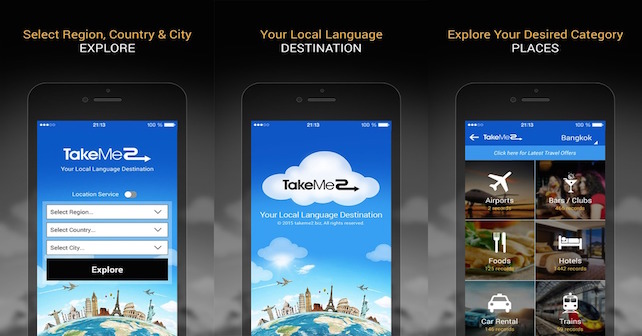 A lot of travelers would probably agree that one of the primary hassles when vacationing abroad is language barrier. This is especially true in countries where English speakers and signs are a minority. Imagine the time and resources that you'd waste if you can't communicate properly and can't even interpret basic road and street signs. It could really ruin your vacation. This is what TakeMe2 Traveller's Language seeks to address.
The app doesn't disappoint in its main purpose of making your travels as hassle-free as possible. Upon launching the app, you are promptly asked about your current location. You only need to take the time to enter the Region, Country, and City that you are currently in, in order for it to start guiding you. Once this data is entered, you would immediately be shown a broad list of places that are important to tourists. These can range from the available airports, restaurants, trains, bars, clubs, etc.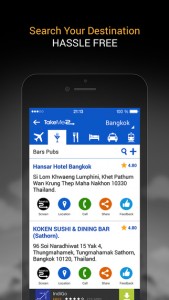 What definitely makes the app worth downloading, though, is its ability to translate from English such important details as information on sites to see, where to stay, addresses, etc. This essentially removes the language barrier problem that is a common inconvenience that most tourists have to put up with. With this app, you won't have a hard time communicating with people that you usually interact with when traveling like taxi drivers, concierges, public transport personnel, and others. The app also offers Google Map support, which makes it all the more easy for you to get to where you need to go without throwing away your precious vacation time.
Taken as a whole, this app is certainly very useful to have if you love to travel on a regular basis. This applies especially to countries where the signs are not too tourist friendly or if there are very few people who understand English or your native language. One sure aspect of this app that sets it apart from other travel apps is that it's quite obvious that it is focused more on what travellers really need when going abroad.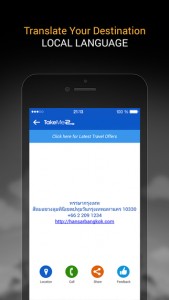 Many apps claim that they're able to provide users with everything they need, but ultimately fall short in the end because of unresponsive features. TakeMe2 Traveller's Language is different in a way that it gives equal focus on the basic need of travellers to understand and communicate when in a foreign country, as well as serving as a great resource from which vital information about a specific country can be easily acquired. This is why this app could very well be considered a tour guide and translator rolled into one. This fact alone makes this app an indispensable tool for many vacationists and sightseers around the world.
Price: Free