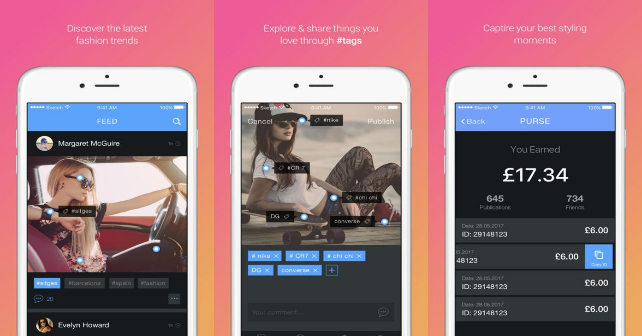 Fashion keeps evolving every single time. Therefore, for any fashion enthusiast, you need to keep up with the trends or else you'll find yourself left behind. So, how can you always make sure that you keep up with those trends every time something new makes its way into the market? What you need is a mobile application; something you have to have with you at all times and that will always notify and keep you updated on what's happening in the fashion realm. 
Winstag is the application in question. This relatively new iOS mobile application comes with a lot of features that allow it to be the best app in its category. First of all, the concept it makes use of is tailored in such a way that it's colorful and vibrant, something a fashion application should have. This colorful and vibrant interface blends well with photos and portraits that might be showcasing on the display. 
As far as the features go, they are absolutely splendid and go a long way to show just how splendid this fashion app is. The application allows you to take pictures of various fashion items, and post them on the app and across various social media sites, from Facebook, Twitter, Google+ and the like. And besides giving you the ability to log in from any one of those media sites, Winstag also gives you the edge to follow all of your fashion icons, thereby putting you in the know all the time. This is probably one of the things that make it stand out from the crowd. 
As you well know, photo sharing should be the prime thing a fashion app should be able to execute pretty well, and Winstag excels at that. If you are a fashion designer, this particular feature allows you to share your latest designs with your friends instantly. 
As you showcase your most stylish designs, you are able to play the part of an influencer, pushing the fashion trends further and making other people adopt what you have made. But Winstag is more than just an app for designers. If you are a casual user, you are able post photos of outfits that interest you, all the while being able to tag your outfits you like. Once you find something you fancy, you are able to follow it up and find where it is sold using the links provided. This particular feature allows retailers to easily market their fashion-ware to all who are connected. This is one other thing that makes Winstag a one of the kind app. 
In conclusion, the app allows you to invite new players into the app via a mere send of an invitation code. Mind you, if you are able to tag a certain number of photos back, you have a chance at winning excellent cash prizes. Additional cash prizes are also at stake for those who invite a certain number of friends to the app. For Instance, if you Invite 10 friends to start using the app, you get 15 stg. Accordingly, invite 25 friends, you get 45 stg, invite 50 friends, you get 100 stg, and if you tag and link 10 brands, you get 15 stg, tag and link 25 brands get 45 stg, and finally, tag and link 50 friends you earn 45 stg.
Price: Free