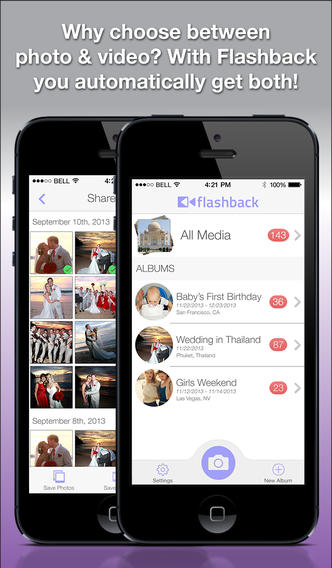 Have you been disappointed about not being able to capture photos and video simultaneously on your iOS device? There's an app that lets you do just that! Surprised? Flashback lets you capture the best moments of your life as photos, videos and montages, and comes with plenty of flexible editing options that photo maniacs will love.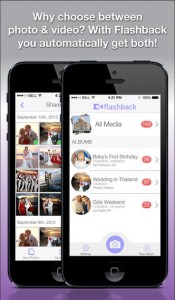 Flashback allows you to capture videos and photos simultaneously on your iOS device without any hassles. This app records 5 seconds of video just before you click a snap, so you can see what happened just before a snap was taken. With this app you can convert your memorable moments (both photos and videos) into a movie montage. The montage can be further enhanced using the photo filter options available in the app.
You can also apply transitions – pause, dissolve and more to each photo and video in the movie montage. Flashback also has a wide range of editing options, and lets you add visual effects, stickers, and text in different fonts. In addition to this, Flashback has good collection of music which can be applied to the montages you create, to intensify their emotional appeal.
A maximum of 50 videos can be selected and converted into a movie montage. Once you are done with your montage, you can design a classy cover page for it. The app enables you to import photos and videos from other applications like Camera Roll and Instagram. Videos and photos can be captured in HD quality and the app has a geo-tagging option with which you can easily locate the place at which the photo or video was captured.
Flashback has a well-designed interface that makes navigation easy. It has a tutorial to help first-time users. You can share your videos, photos and montages across social media platforms such as Facebook, YouTube, Twitter, Flickr, Tumblr, and Instagram.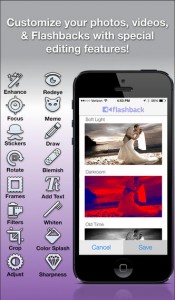 Flashback is an awesome camcorder that is worth its $1.99 price tag. I have been using this app for a few months now, and I notice that it has been upgraded recently to include more features which make montage creation easy and fun. I am using it right now to create a montage of my three-year old's mischief! Developers could consider having a backup option which will help users retrieve their precious photos and videos in case of accidental deletion. The app's utility can be enhanced by including a photo timer option.
Flashback is an innovative tool to craft your memories in various creative ways.
Price: $1.99
Rating: 4.5/5