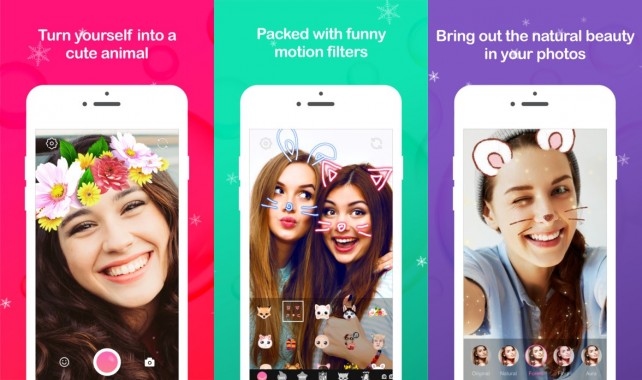 Bringing a fresh twist to your selfies could make them more share-worthy and unique than the usual ones that you share to your friends online. Sometimes, all it takes are a few minor tweaks to make a photo more engaging. Depending on your purpose, whether it's to make them laugh or show off your cute side, adding filters and stickers to your photos would be enough to do the trick. CamCam lets you do all this and more in a single platform.
In order to start working, you only need to choose a photo from your storage or proceed to shoot it directly from your camera. Videos apply as well but the duration is limited to 15 seconds only. Once you have settled with a photo that you like, you may now start adding filters to your selfie. There are numerous filters that are based on animals like puppies, kittens, foxes, and pandas, to name a few. You can turn yourself into a sort of anthropomorphic version of the said animals, and if your styling is just right, your adorable qualities would certainly come out. If not, you can always settle for just being funny or choose from the other filters available.
What makes things even greater is the fact that the app also takes the liberty to add various animated face motion effects that only make things more fun and interactive for you and your friends whom you share your pictures with. If you have the editing skills, you can certainly seamlessly create numerous funny and entertaining photos with this feature. 
Want to make your selfie look better? Then don't hesitate to utilize the over 10 beauty effects that the app has to offer. These effects would certainly allow you to make even your most terrible-looking selfies look more presentable in seconds. Lastly, even though the social aspect is missing, the app still supports direct sharing of your creative photos to all the major social media networks. This way, it surely won't take long to connect with your friends and loved ones while using CamCam. 
Because of its main features, CamCam could be readily compared to other more popular social media and photo filtering apps like Snapchat. Nonetheless, what makes this app entirely different from them is that it is entirely devoid of the said social media side. The other features such as its unique selection of filers as well as the face animation effects and multiple face recognition capability serve to define CamCam's strong points and unique aspects. 
Price: Free