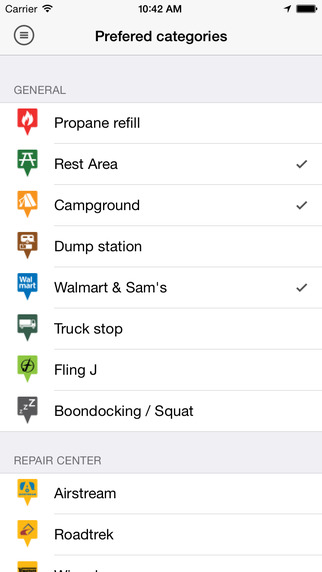 Camper's Helper is an iOS app which is perfect for those who enjoy traveling but would rather opt for the beauty of nature instead of the comfort of a hotel. This app was designed specifically for camping lovers in US and Canada, featuring over 55,000 reference points that represent campgrounds or rest areas. Thus, regardless of the place that was decided on visiting, this app can prove to be a great helping point. It comes with a wide range of features, which facilitate the finding of desired campground. Furthermore, interface is very user-friendly, thus enabling even the users with no experience to find a great spot.

Features:

* Ability to find more Types of Camping Fields
Regardless of whether looking for a campground, rest area, dump station, propane refill or truck stop, this app lists them all. One can filter these locations accordingly from the menu, for a more facile and intuitive search. These spots are available in different areas, so even when visiting a completely foreign location, Camper's Helper can prove to be more than a useful guide.

* Repair Centers for Camping Devices
In case something goes wrong with any of the camping devices, Camper's Helper can be of aid once again. Thanks to its database, which includes over 1,000 of such repair centers, there should be no additional worries for those who might suffer from damage to any related device.

* Interface in Different Languages 
Those who don't know English very well should know that Camper's Helper is also available in French and Spanish. Even if Europe is currently not supported by this app, people who know these languages better than English can use them to find more information about different campgrounds, recreation areas, etc.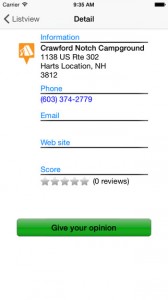 * Information about each Campground with Reviews
Each campground and facility available in this app's database comes complete with a number of listings including here; exact address, mobile number, website, email and score. Score is calculated from more reviews, so if 4 people voted the campground with 3 stars and other 4 people with 5 stars, then final rating of the place will be 4 stars.

* List View and Map View
Users can see all campgrounds available in a region in either list view (with exact address) or map view. Thus, everyone can orient based on preferences and select closest or most comfortable campground. Other facilities can also be displayed in map view based on filtering preferences.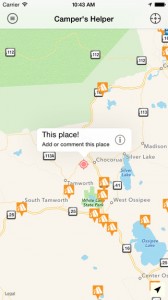 * GPS Location
Camper's Helper is capable of reading current location based on GPS coordinates and providing nearby suggestions of campgrounds. Alternatively, one can manually input desired address.

Conclusion:
Camper's Helper is a great app for anyone who loves camping. It comes with a large base of references for all USA and Canada, and can help one find many other interesting spots such as shopping centers, dump stations, propane refills and more. It is available free of charge in App Store.
Price: Free
Rating: 4.5/5