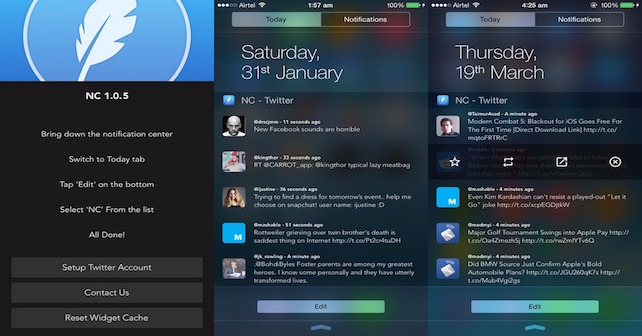 In Earlier days, you have to unlock your mobile device to check your Twitter feed. With the newest Twitter notification app, the NC – Twitter Widget for Notification Center, you won't have to unlock your phone any longer. With this app, you can see the flood of things happening on Twitter even without unlocking your device.
Concept and Theme
The Twitter Widget app is specially designed for iOS devices and is sold by Apps Genie Limited for a price of $6.99. This app makes it easy for you to check out what's happening on Twitter by updating you on the latest timeline posts and mentions without ever unlocking your device or quitting any other program that you are working on at the moment. In short, NC makes you quickly updated on what happens on Twitter.
Features
The newest 1.1 version of the Twitter Widget features the following:
• Enhanced font size – the app automatically calculates the best font size that makes reading easy for you, so you don't have to worry about squinting.
• Improved landscape support – the app supports all types of devices for better landscape use.
• Quick preview – the app allows you to see five tweets in a row the quick and easy way from the Notification Center.
• Do your favorite Twitter activities – even without opening your Twitter account, you can favorite, open tweets, or retweet your favorite apps straight from the NC – Twitter Widget.
• Very easy to use – you don't have to be a genius to know your way into using the Twitter Widget. It's simple to use and is very suitable for those who like to use Twitter without their usual phone activities interrupted.
Functionality and Usability
As a notification widget, the NC – Twitter Widget does its job well of notifying users of the latest tweets. The app shows tweets in front of your phone screen and you are given several Twitter options on whether you want to retweet it or have it as a favorite. That is, the app works best for casual Twitter users who also have an affinity to their other phone programs.
Design and Performance
The NC Twitter app is simply designed in a way that even new users will be able to use it efficiently. Not only does this app reduces the need to quit and unlock iOS devices, it also allows less time of operation from accessing the actual Twitter feed and doing retweets since both can be done from the notification widget.
Verdict:
Overall, it is worth considering since it allows you to tweet and enjoy the latest tweets right at your own convenience. Being able to access it from lock screen and without quitting your current phone programs, also put it way above other notification apps similar to it.
Price: $6.99