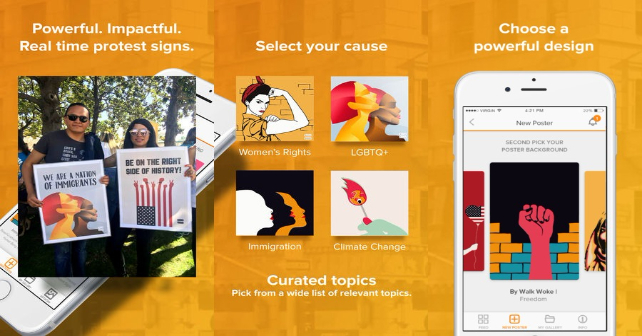 High-quality protest signs take a lot of time to make, and how can you expect people to take seriously whatever it is you are advocating or fighting for if you'll settle for less than stellar signs. If you haven't got the creative flair to create your own signs (or simply don't have the time to craft them from scratch), then WalkWoke could very well be the only tool you'll need.
The app mainly focuses on helping users create posters that they can use to deliver a strong message via protest signs. In the first screen, you only need to tap on New Poster to start. The app would immediately ask you the exact cause that you are fighting for (the causes range from immigration and health care equality to civil rights and gender equality, to name few).
Afterward, you will be given numerous options in artworks that you can use as a background for your future poster. Just slide left or right to browse through what's available. The art's title and artist would be displayed along with a preview of what it looks like.
Once you have picked your image, you can now proceed to add it the message. You can either choose from a variety of slogans that the app has available or write your own message. It's easy to edit the font of the message as well as how big you want it to appear on the poster.
The app also allows you to easily adjust the position of your message on the background art. Finally, you will always be given a preview of what the final poster would look like as you work. With your poster done, you can either print it on the get-go or share it first in the social media of your choosing.
WalkWoke, with its already unique main functionality, is further set apart by the obvious quality that it gives users. It knows what the protest movement is all about, and it is well-aware of the many present-day causes that people are fighting for. The artwork is another facet that is equally deserving of being singled out in this review as they are very profound and aesthetically pleasing at the same time.
The power of protest signs lies in their message and artwork. The impression that a single perfectly crafted sign can make is just one of the spokes in the proverbial wheel that drive positive changes in society. WalkWoke is giving you all the tools you need to create them. This kind of opportunity is rarely offered by an app, and this highlights the impact and overall value of the app to universal advocacies worldwide.
Price: $ Free