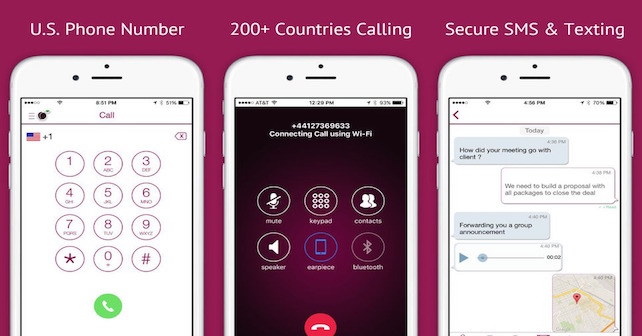 Nobody can deny the advantages of having your own working and verified U.S. mobile number, especially if you have friends and relatives in the U.S. whom you need to communicate with on a daily basis. After all, most of us are already very much aware of the hefty charges that phone companies make if one were to call from outside the U.S. Indeed, compared to the privilege enjoyed by domestic callers, it's just not very practical.
This is the very reason why iPlum was created. With this app, you can have your own U.S. mobile number and make the most out of its benefits. One of these is the virtually free-of-charge app-to-app feature. With it, you can call and text with a fellow iPlum user at no cost. You only need to be connected to a host of networks that this app supports like 3G, 4G, WiFi, and LTE data in order to start using the in-app calling and texting feature.
For those who intend to call non-iPlum users, though, don't fret because the app allows you to call them for a relatively low charge of 1 cent per minute (based on the country). For toll-free U.S. numbers, though, there is also no charge. With this kind of scenario, it's like you're calling from within the U.S. as well, so you or your friend don't need to worry about those dreaded roaming charges.
The app also has other bonus features like photo- and video sharing, group messaging, and even file sharing, to name a few. These features are just half of what makes this perfect for professionals who want to organize their contacts in a platform that is separate from their personal one. One other noteworthy feature is the app's ability to convert your iPad into an iPhone. The conversion is needed because your device will be assigned its own dedicated US phone number. With this phone number, you can finally send and receive calls from any type of phone using your iPad 😉
Another bonus is the promo that the app offers for first-time users. Upon signing up, the app will give immediately reward you 30 free credits for international calls. Think of it as a free trial of their truly helpful service. One other good thing about this app is that it's available in both Android and iOS devices. There's practically no difference in the features offered in both versions as well.
The measly dollar-a-month charge of this app more than makes this a real bargain. In the end, the primary goal of the app is to help people worldwide to save as much as possible every time they call their family, friends, and relatives in the U.S. The main factor that makes it stand out from other apps with a similar purpose is that it supports both texting and calling. Other apps only offer either one of the two and it's rare for a single app to offer both. The overall amount of money that you can save when using this app is also what ultimately makes it unique.
Price: Free