Today, social media outlets are so important that any product which allows them to be consumed and utilized in a slightly better way receives plenty of attention. BroadTags is an app for the Apple mobile devices, but it does not simply provide a small enhancement to the social media realm. Instead, it utilizes its features and abilities to enrich one of the most crucial aspects of any social network – the hashtags.
BroadTags was created for the iTunes service, where it can be downloaded for free. It requires an iOS 6.0 or a later version and is compatible with the iPhone, the iPad and the iPod touch. As its basic concept, the app presents a platform that allows users to search and follow posts, videos and pictures across its network using hashtags. As a way of using the # for marking tweets, posts, and statuses, hashtags revolutionized social media when they first came about. Now, with BroadTags, a social network in its own right, the same phenomenon can be evolved into a whole new dimension and provide a significantly better experience for its users.
The BroadTags presents a varied set of features, all of which are exceedingly important for the users. Firstly, it features a feed that provides the users with a constant stream of information that is marked with the hashtag they are interested in. It features a method of posting that includes videos, photos and text, but also allows them to be easily searched and identified. Messaging feature of the app can be used both directly and across all the users, while privacy option feature safeguards all important data about the users themselves.
Notifications are a feature that will keep the users in the loop with the things happening on BroadTags while they will not bother them in any way. To make sure the users are covered with all the relevant topics, hashtags range from #selfie to #life and #music. Naturally, knowing that the users will provide plenty of their own material, the app comes with photo filters that are both customizable and very powerful. Everything that happens on the network can be distributed via the social media sharing feature covering the most important networks of Facebook and Twitter.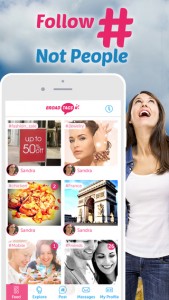 The thing that really separates this app from any of its competitors is the fact that its development team built an entire social network on the most important factor of social media, in general, the hashtags. Now, users can jump directly into the conversation and get instantly connected with so many other people that the app can only be described as groundbreaking.
BroadTags, thanks to its simple but effective idea that is supported by a very impressive set of features represents the ideal way how anyone can use hashtags and immerse themselves in this unique social media application.
Price: Free
Rating: 4.5/5