Masked: Anonymous Dating is a terrific iOS app which allows you to chat, meet or date people around you while guaranteeing complete privacy. This added level of privacy is what makes it easier for both men and women to experiment both sexually and socially. You will not have to worry about cultural taboos and can use the disposable profiles available to explore yourself as well as others.
If you're feeling lonely or are in search of an app through which you can anonymously chat with people who share the same interests as you and are in your area then this is the perfect choice for you. All you need to do is download this app to start enjoying the world of anonymous social dating.
The greatest advantage with this app is that you will be chatting anonymously and can be yourself without worrying about the opinion of others. You will be able to share your innermost desires and dreams and even confess some of your darkest secrets without feeling the need to hold back.
The app is easy to use. You can register using your phone number and start creating your profile. All of the information you provide is kept secret and your user name is the only thing others will be able to see. You will not have to add a picture either. You simply connect with other users who share the same interests as you and start chatting with them.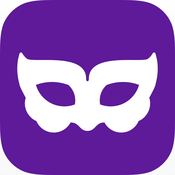 Another unique feature of this application is that it lets you have more than one profile. This allows you to show each aspect of your personality separately. You get to display your complete range of interests. Indulge in every passion of yours. Who knows where your next connection is going to come from.
Here are a few reasons why this app is so amazing:
– It's a universal app which can be installed on all iOS devices.
– The interface is user friendly and the graphics are pretty cool.
– You can create multiple anonymous profiles for yourself.
– You can respond to any profile which intrigues you and even chat privately with other users
– Picture sharing is quick and easy. But they are protected by default and are only shared when you want to do so.
Now don't wait any longer. Download the app and start making new friends today. Who knows? You might meet that special someone sooner than you thought.
Price: Free