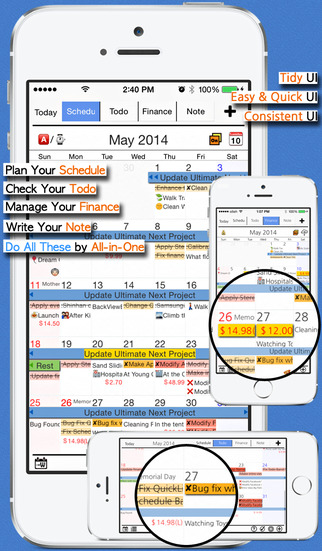 Ultimate Next – All in One Calendar is a new work schedule app for iPhone and iPad which comes with many improved features over the default calendar app in iOS. Keeping track of an upcoming project or a friend's birthday is now much simpler thanks to the intuitive layout of Ultimate Next, which also comes with complete Cloud Sync as to help users permanently keep track of events. In case data on the phone gets accidentally deleted or lost users can choose to retrieve it directly from their cloud account which makes thing much easier. This also enables easy setting of the calendar on other compatible devices. With this in mind, here are the key features of the app: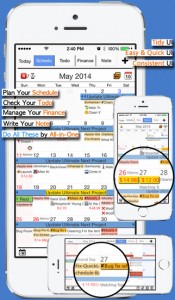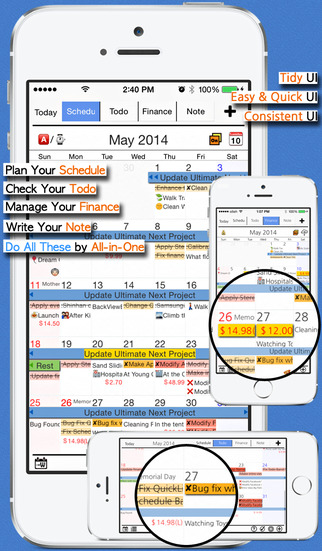 Plan the Schedule:
 Thanks to the scheduling feature of Ultimate Next – All in One Calendar anyone can plan upcoming events for several months and even set key reminders for it. A price for the project can also be set as well as any specific details which might be of help later on. Furthermore, users can also choose to add photographs to the events for enhanced functionality. Alternatively anyone can benefit from a special highlighting animation for events, set whether the upcoming project is part-time, full-time or all-day and add events immediately via "quick schedule input".
Set 'to do' Events:
In the case that an important occasion such as a birthday party, team project or scheduled event is coming up you can easily choose to be reminded via the 'to do' screen. Here one needs to set a start and an end date as well as details about chosen event. Then, an alarm can be triggered at chosen time or you can just be reminded about the event when it's about to expire.
Manage the Finances:
Thanks to Ultimate Next – All in One Calendar's finance tab anyone can keep track of expenses and financial statistics. For example, it's very easy to choose when salary is received and choose how it's going to be spent. Furthermore, costly projects can also be set from here as well as future payments. The list provided by the app can also be used for shopping purposes such as keeping track of future items to be bought.
Note View Functionality:
Ultimate Next – All in One Calendar also comes with a note managing functionality where anyone can decide for smart memos. Here photos can be added and sync with iCloud storage is possible. Furthermore, one can choose to send memos to Facebook, Twitter, message, PDF file and more, including any photos they might have attached.
Ingenuous Design:
The app is designed in such manner to be as easy to use as possible. It is split in several sections including Schedule, To do, Finance, Notes and Calendar. The UI is smooth and consistent in functionality. Full landscape mode is supported as well as highly detailed input. Smart gestures such as zoom, select to find and more are available. Support for country holidays, passcodes, emoji and several fonts is included by default.
Conclusion:
Ultimate Next – All in One Calendar is an app designed for those who want more than a calendar. People who need to carefully manage their finances, upcoming events and schedule will definitely benefit from this app. Furthermore, those who are active on social networks or want a calendar with iCloud sync should definitely take this one into account. Also, this app is now available for a discount price of $1.99 from $4.99 for a limited-time.
Price: $1.99
Rating: 4/5