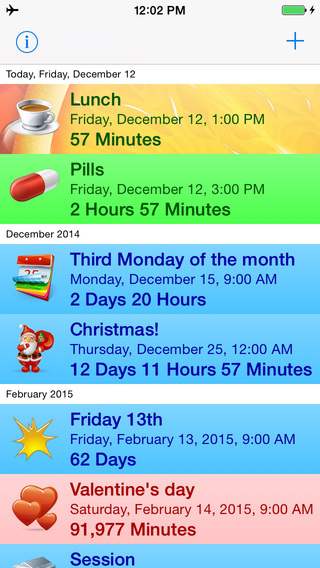 My mind is like a sieve and I constantly forget things. Yes, it happens more often than not. Most of the time the date is pretty clear to me, but the point is I forget that that particular day is the day. 🙁 Last year I remembered that my anniversary was coming up in 10 days and I was actually looking forward to it. But it just slipped my mind when the day arrived and I was very disappointed with myself. This is because I don't check my calendar regularly. Though my spouse told me that it was alright, I didn't actually feel alright. To make things easier to remember, I decided to take the help of an app and downloaded one named Reminder & Countdown free by Sergey Astakhov. The app helps me make note of all the important dates and events that I want to keep in mind. I also use the app to set alarms to keep me reminded of upcoming events.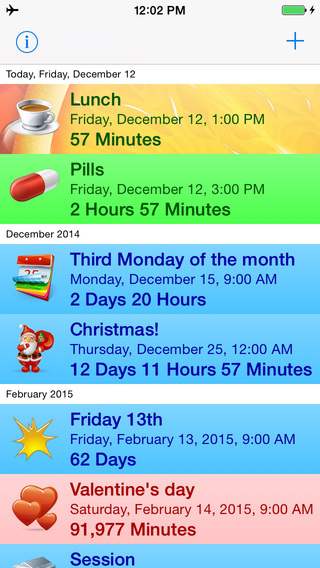 Reminder & Countdown free is loaded with features. You can manage countdowns for one or more dates, select the units to count back in, enter the name, time and date of the event and sort countdowns by name and date. You can also set push notifications to remind you about events, select an alert tone, set the number of alerts, set the repeat period, and get to know how much time is left before the event.
With Reminder & Countdown free you can customize your events list by choosing an icon for each event, setting different backgrounds for each event on your list, and by writing colorful notes to make things look interesting on the display. You can also take screenshots of event countdowns, and send them to your friends and family via SMS, email, Facebook, Twitter, Google+ and more.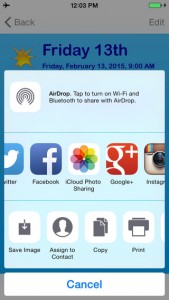 I find the app to be pretty handy when it comes to saving the day for important moments in my life. I am no longer frustrated with myself as the app sends me repeated notifications, and this gives me ample time to make the necessary preparations to surprise my loved ones. 🙂
Rating: 4.5/5
Price: Free