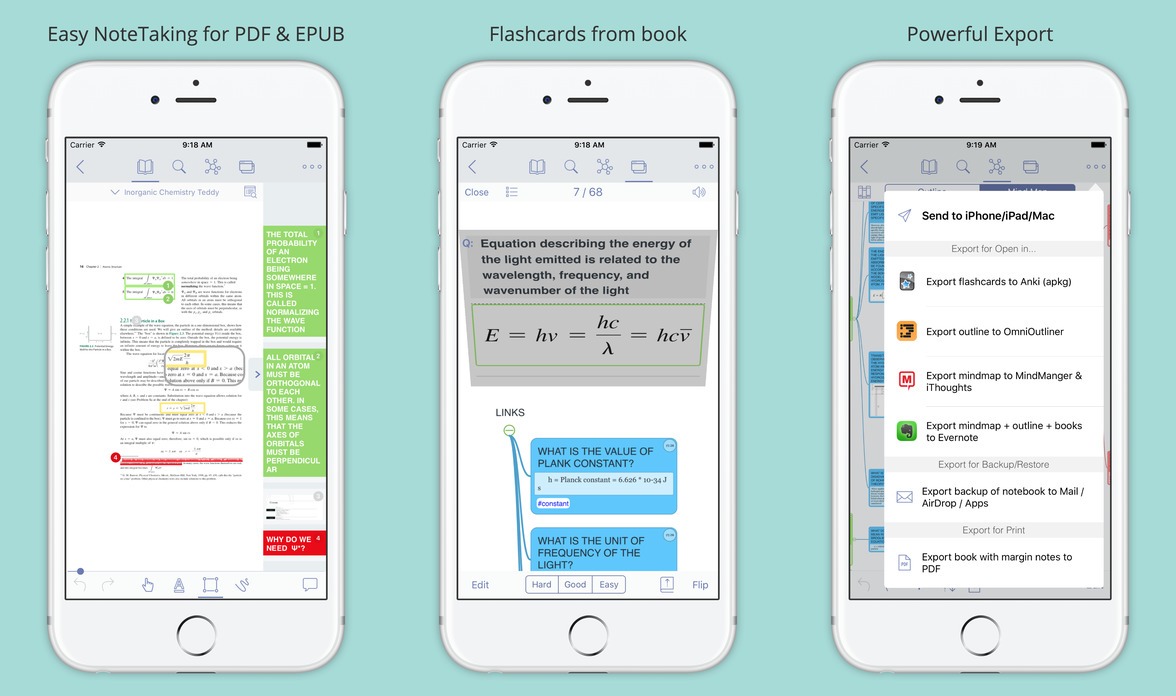 Many users would probably agree that when it comes to reading e-books, PDFs, and other digital articles, the iPad can stand out on its own. The same can't be said, however, when it comes to annotating and reviewing text. For this purpose, it's best to rely on a stand-alone app that specializes in the said activities. If there is one noteworthy app that embodies this, it's MarginNote Pro.
Indeed, if you are required by your course or profession to consistently annotate, take notes, read, or study, you won't find a better app to help you with them. This is because MarginNote Pro not only prioritizes organization, but it is also designed in such a way that note taking would be seamlessly done. It has to be noted beforehand, though, that the app only supports files in the PDF and EPUB formats.
It makes the said benefits possible with the use of inimitable features like Mindmap and Outline. These tools help give you a more excellent overview of your notes. You can easily make outlines of your work using swipe gestures, while multi-selecting, merging, and editing its content. Want to get to specific portions quickly? Then use its quick search feature or make liberal use of filters, hashtags, colors and books.
As for annotating, know that the app incorporates numerous highlights for you to use, depending on the type of annotation you want to do. Besides rectangular highlights and text highlights, you are also allowed to sketch highlights directly on the pages. All the while, you may add notes at the margin (these will not overlap with the actual content of the page). Amazingly, you may even add voices, pictures, and sketches as notes, all of which can be affixed with hashtags.
When reading, you may add many materials to organize into one notebook. Book note and links would be shown at the page margin; any web page may be readily converted into EPUB format for the app to render. You may even import webpages from Evernote.
As for the consummate student, know that the app includes flashcards as well. What's even niftier is the capability to automatically turn your highlights into flashcards. These flashcards adopt the Anki-based algorithm for optimal reviewing. You may switch to the page that is linked to the flashcard anytime. You may even turn text to speech as you utilize them, and you are allowed to sketch on the highlights to make questions.
Any material you create in MarginNote Pro (e.g. flashcards, Outline, Mindmap, and other margin notes) may be exported to various third-party apps that support them like Anki, Evernote, OmniOutliner, iThoughs, and MindManager. Books may be saved and synced in iCould too. Other miscellaneous features include support of Split View (perfect for multi-taskers), support of Apple pencil for accurate drawings, as well as better keyboard and typing capabilities.
If we are to compare MarginNote Pro to other annotation apps or to those that help users in studying, it is able to trump all of them with its selection of highly efficient tools. Its specialization on annotation, reading, and studying as evidenced by the plethora of tools that it offers for the said endeavors, are comparatively significant features as well. A researcher, scholar, lawyer, student, or librarian would certainly agree that this app really knows what they need and delivers them magnificently.
Price: $7.99