The launch of iOS 7 is just encroaching and just before it is the new app that simply is a picture of the features the new OS offers. This app: Latest Tips, Tricks and Secrets for iOS 7 explore the details which are unknown by many but they are inevitable. The app is designed to capacitate and facilitate easy understanding of iOS 7 while putting the spotlight on tiny but very useful nuggets of information which comes with this operating system. The features of the app are vast and this article outlines the most significant ones. The specs of the Latest Tips, Tricks and Secrets of iOS 7 app can be broadly divided into tips and secrets.
The Valuable Tips/Tricks:
Text Enlargement: For those folks whose eyesight is on the edge, this app comes with Dynamic Type mode that supports text enlargement among the integrated apps. Go to Settings>General>Text Size to start enjoying this feature.
Create a Reject List: If some people have been a constant bother to you, the app provides an option to block them from calling you in the contacts.
Customized Search: You can effectively search for emails, texts, contacts and a lot more with iOS 7 but it is not much different from the previous spotlight search. The difference comes on how to access the search app, as with iOS 7, you just have to swipe the icon in the home screen grid.
Saving Time on Audio Calls: For those who want to save minutes by employing Face Time Audio Calls, you are lucky with this improvement. You can be even able to search for the contact you want with the Face Time.
Barricade Your Appointments and Messages: You can be now able to customize the notification center right from the lock screen thus preventing creepy guys from snooping into your appointments and messages. Just visit Settings>Notification Center>Access lock on Screen to customize what others may view.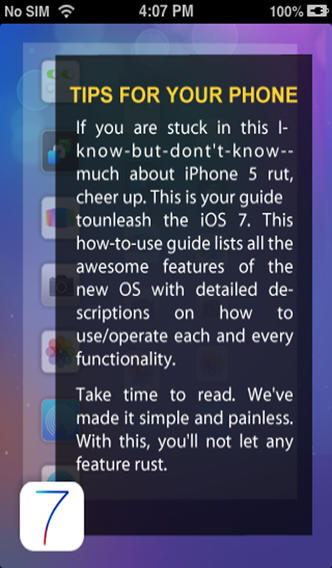 Create Parallax Wallpapers: The iOS 7 comes with new levels of controls as you can now set the resolution of your wallpapers and even adjust their background movements.
Discover the Secrets:
Toggling: You can easily toggle Wi-Fi, Bluetooth, Airplane Mode and a lot more. The features are quickly accessible from the lock screen.
Switching and Closing of Apps: you can now change and end apps running in the background by just double clicking on the home button where you can preview each app.
Customization of Today View: To a limited extent, you can be able to adjust the Today View so that third party apps can appear. You can then choose what you need to appear to avoid unnecessary items and to foster the life of the battery.
Get a Quick Glimpse of Your Day: With the Notification Center revamped, Today View helps you see a number of different things including calendar, weather and many more.
LED Flashlight: If you prefer lights than vibrations, then LED flash provides you for this in iOS 7. You can commence using this by visiting Settings>General>Accessibility>LED flash for Alerts.
Among other top secrets with this app is correcting the siri's pronunciation and setting default directions in iOS 7 apple maps.
Remember that this app is purely free.
Price: Free
Rating: 4/5