Even HTC's Social Media Department Couldn't Tell the Difference
While there are a number of reasons to consider the M9 over the M8, appearance isn't one of them: HTC's social media department had a bit of confusion showing pics of an M8 while advertising an M9. The two phones look nearly identical, and while the M9 is miles ahead in terms of processing power with an octa-core system, at present the M8 remains one of the most powerful quad-core phones available.  While this will become more evident as octa-core processing becomes the standard, it isn't as prevalent now.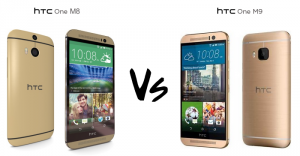 The M9 has a few more apps available, but it is quite likely the M8 will also have access to those same apps when it inevitably gets a system upgrade. While the M9 has a slightly more powerful camera, the M8's camera is so different from not only its successor but other phones on the market, it often feels more like a letdown than an upgraded camera.
Finally, there's that little issue of the price: the HTC One M9 is over $200 more than the price of the M8. If there was a substantial difference the cost could be justified; whether it is for a fairly marginal upgrade falls to the user.
Verdict: If having the most advanced phone is a priority for you, get the M9. But if you're looking for a solid, cutting edge phone, you aren't going to see much of a difference between the two.