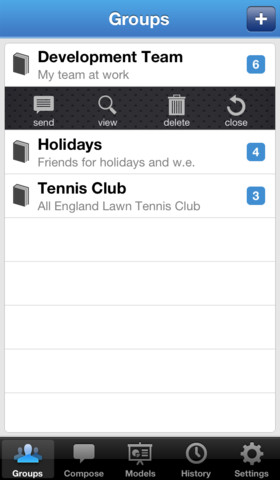 There are times when I want to send a message to my subordinates or friends in the last minute regarding a change in the meeting place/timing or communicate some other news to them. Well, email is an option, but it's hard to make sure that everyone sees the message immediately. When I was on the lookout for a group SMS app, I came across 'Group SMS' in the App Store. This is an iPhone app that enables communication with several people instantly.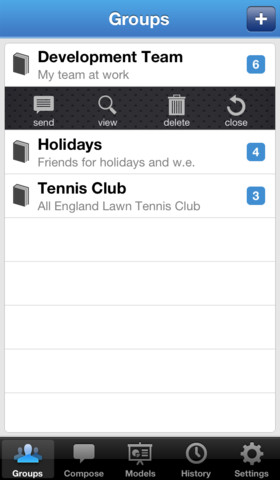 Group SMS is an app that allows you to easily send text messages to many contacts. The app belongs to the Productivity category in the App Store. With this app you can create your own groups and add any number of contacts to them. You can then send a text to all members of the group with just a single click.
Once you install Group SMS, you must allow it to access all your contacts. The app has five different tabs, 'Groups' , 'Compose', 'Models', 'History' and 'Settings'. Under the Groups tab you are allowed to create new groups using the '+' icon. You can add a name and description to the group. You can add single or multiple contacts to a group utilizing the available choices. You are provided with a search function that enables you to identify contacts. Group SMS also allows you to rename a group.
Using the compose option, you can text a new message or use one from the templates available. After composing the message you can select the groups to which you want to send the text. Under the models tab, you can save text templates. This is of great help when you need to send the same SMS frequently. This simplifies and speeds up the process of sending texts. You can even give a title to each of the templates to make them more visible. The History option keeps track of all the texts you have sent so far.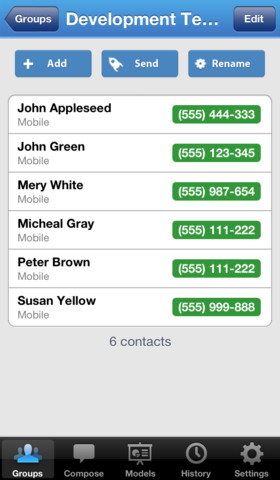 I must admit that Group SMS has got a very simple user interface. The app supports the Retina display. The app automatically reads all the groups created in the phone book of your device. This option can be disabled using the ON/ OFF function. You can also choose to sort contacts of a group by last name or first name. Group SMS keeps count of the number of characters in a text and this feature is of great use to me as I use a limited text plan.
The app currently seems to have a problem with iOS 5 and so you must disable the MMS function in your device to send group texts. I would have been happy to see an option that allows me to share messages on social media sites.
Group SMS costs $0.99 and requires iOS 5.0 or later versions.
Price : $0.99
Rating : 4/5