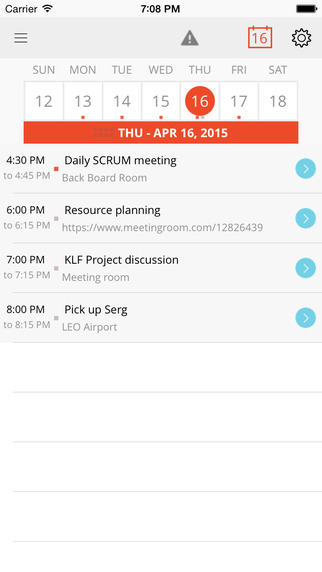 Daily meetings are an integral part of your day-to-day work pattern. This is why as much as possible, you shouldn't have to put up with hassles that, more often than not, cause you to be late for the said meetings, or worse, not be able to attend them at all. For instance, is it really necessary for you to remember every passcode for every conference call that you need to make? The very thought of forgetting these numbers could be downright frustrating, bordering on nightmarish even. These petty work hindrances, however seemingly frivolous they might be, could actually grind your work momentum to a halt. No one should have to worry about them. 
This regular problem served as one impetus that drove Esna Agenda's developers to design an app that would respond to it; an app that would serve not only as an accessible portal for you to connect to your calls and attend your web meetings, but also as a way for you to always have an overview of an entire work day or week.
Through Esna Agenda, users can easily join online meetings in popular platforms such as Google Hangouts, Cisco WebEx, Scopia, etc. With this, it wouldn't be difficult to stay connected through live face-to-face chatting, which work often demands. The app also allows one-click dialing when making conference calls, and what makes things better is that the passcode for each call is automatically dialled for the user.
That the app allows you to take notes, send texts and record voice notes during a meeting could be considered a good bonus as well. Besides sending you call alerts, it also sends you a notification if a specific meeting is about to start and even displays the picture of every person that you are supposed to meet. 
The in-app calendar lists down every meeting and important event that you have to attend, which really gives you that personal planner feel. Additionally, this app gives you the ability to show events from multiple calendars, so you can easily check your schedules accordingly.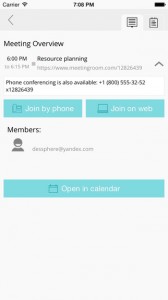 Now, based on the above-mentioned features, the factor which really highlights Esna Agenda and makes it stand out from apps similar to it is its serving as a way for people to organize their work experience in ways that a standard personal planner cannot. It has successfully combined the function of a personal planner and the convenience provided by mobile collaborations. This is why if you've been meaning to get your daily work streamlined and increase your productivity in the process, then doesn't hesitate to give this app a try. 
Price: Free
Rating: 4.5/5