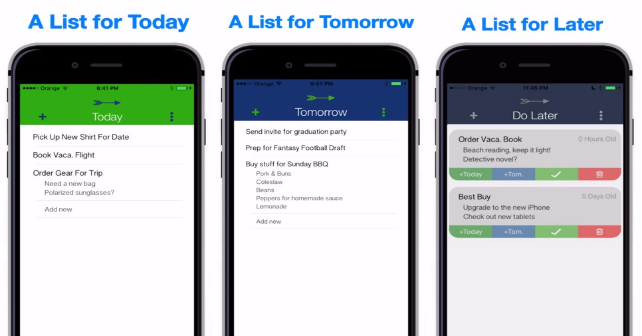 Tasks and chores are an essential part of everyday life but more than often; they can be a really bothersome as well. Any to-do list that is made either in professional or private life needs to be completed, but for a variety of reasons, they end up disregarded or postponed. Many times, this is directly connected with the way in which the list was made. For example, a written list might be forgotten at home, while some other that was made on a computer might end up on the local hard drive, and not with the person who needs it. However, there is a mobile device app that can make sure that this never happens again.
This app is called Do.List and it provides a basic concept of creating lists and does it with laser-sharp focus. In this app, there are no unnecessary elements of a kind, starting with its clean and minimalistic user interface. Here, the users can be free to set up a to-do list and keep their mind on the tasks up ahead, instead of getting lost in too many options and possibilities. Overall, the app is set up into three big categories, which include Today, Tomorrow or Do Later. This was the app covers the important time periods in the future of any individuals.
Sticking with this type of task delegation is a great decision, even though it might not seem this way. But, after a few days of use, it becomes clear that each and every task can and should be placed in one of these categories. Aside from this, the app includes several additional subcategories for the Life List segment, which can house things like a grocery list, movies to see, yard chores or even a real bucket list.
Several important features enhance the usability of the app. Tapping a task will open its moving option while the drag feature will make sure that any priority can be rearranged easily. Feedback feature shows the completed tasks and the quick check makes a lot of sense in situations like shopping or packing. With the interconnectivity feature, tasks can be shared using email, messaging or some other means, but the app does not need an Internet connection to be used and involves no syncing. Combined, all these features are exceedingly useful, but still cleverly do not burden or slow down the app in any shape or form.
On the other hand, the element of the Do.List app that really allows it to stand apart from any competition is its simplicity. Other apps drown their users in unwanted options and possibilities; this one provides only the most essential and useful features. At the same time, it is a powerful to-do list database and by being on a mobile device, it will never leave a person's side.
This way, Do.List app is a perfect opportunity for anyone to get organized in a way that will provide almost instant and substantial results.
Price: Free