Zadarma Project is a company that has been around for some time. It represents a service that allows people to make VoIP (Voice over IP) calls, which are an incredible advantage, especially for mobile device users. Now, the same company allowed its users to employ VoIP calls with Apple mobile devices, which will allow any iPhone to receive this app and get access to the same services. The Zadarma app can be downloaded from the iTunes service and it requires an operating system iOS version 6.0 or a later one.
The main concept of the app is to allow its users to make and receive calls to landlines or other IP PBX (Private Branch Exchange). While many other VoIP apps of today allow the users to make calls to the same app and on phone numbers that represent the standard landlines, Zadarma provides something new. Its main advantage over any other similar application is its ability to send and receive calls from a virtual number. This option is not only handy, but truly game-changing. While previous applications resided on the old systems of incoming and outgoing calls, this app presents the next level of communication, similar to the possibilities that are provided through social networking.
Zadarma app provides multiple features. It operates using regular SIP protocols that provide the users with calls that are coming in, but also those that are going out. It features the possibility of connecting with a virtual phone number in more than 70 states and countries around the world. It also features an option of using a free number via extension dialing. Additionally, this crucial app for any iPhone provides features like recording calls and SMS services that include both receiving and sending messages. Its features include a support for making video calls, making them extremely handy for all those who desire to connect the notion of a virtual phone number and video chatting. The app is also able to work with a free PBX in the cloud form.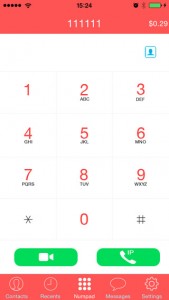 The app is especially useful for creating virtual offices, where users can make sure that the calls to their office landline number can be rerouted with the use of this app to an iPhone anywhere in the world. At the same time, the Zadarma PBX cloud option cuts down both time and money for its setup, without the need for special hardware elements. In essence, the entire process of turning on this aspect of the Zadarma app takes no more than an hour and does not demand any special IT skills. This Zadarma feature alone is capable of making a huge difference for any businessperson in the modern world.
With an installed Zadarma on an iPhone, a person can be granted an access to the world of unprecedented VoIP options. These will allow the same users not only to stay connected with their family members and friends, but also to provide their business with new means of global communication.
Price: Free
Rating: 4/5