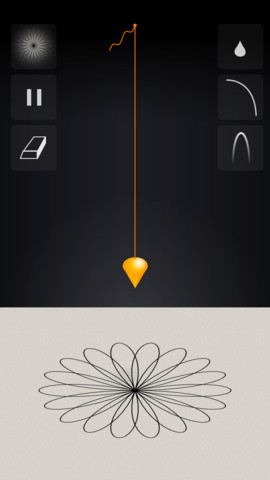 Are you are artist? Do you wish you could create memorable, impressionable art like some of the most respected artist of our time? If that's your desire or if you are an artist looking for a new way to expand your creativity, then you will absolutely love this app.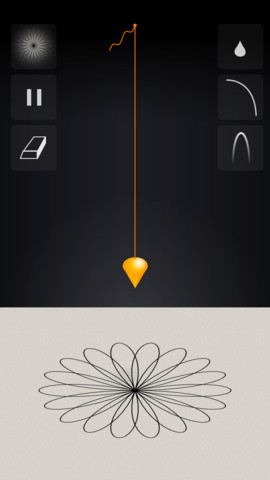 Pendulum Painting by Modebiz will take you on a journey similar to that of French physicist Jean Foucault. If you are unaware of the history, he is responsible for demonstrating and proving the swing of a pendulum on a pivot, which in turn, swings clockwise regardless of the motion on the pivot. This was the first scientific explanation and demonstration of the Earth's rotation.
The motion of the pendulum and how the path of always seems to come back to the middle has created beautiful art, which is on display in various museums around the world.
For a mere $1.99, this app allows you to experience the swing and thus the beautiful art created in a very quick amount of time. The normal process would call for complete circular rotation in 32 hours. Rest assured, you will not watch the pendulum swing for that long with the app.
The drawings are crisp and clear and the overall color scheme of the app is perfect. It's not overwhelming to find a painting/drawing pattern that fits your taste.  Here are some features you are sure to enjoy with this intelligent app:
* The ability to witness gorgeous pendulum patterns created in a very short period of time
* The ability to adjust the length of the pendulum rope to your satisfaction
* Customized rotation and speed of the pendulum drawing
* The ability to customize the level at which the pendulum releases
* You can also completely control the timing of the pendulum, therefore, multiple drawings can be created
* Tips to help you create the unique drawing experience you are sure to have with this app
Regarding the technical requirements to ensure optimal performance of this app, the app is compatible with the iPhone devices. You will need an iOS 5 or better update. You are sure to have the best experience when using the app on your iPhone 5 device.
It's only 1.2MB in size and the most recent version is 1.1. There were a few issues with fading in the previous version. This has been improved on version 1.1. The app comes to serve native English, traditional Chinese, and simplified Chinese.
This app is still in it's infancy, yet delivering science and art in a single app to users who can appreciate such an experience. This is definitely an app you can't afford not to add to your portfolio.
Price: $1.99
Rating: 4/5