PlaceUs is a newly-released iPhone app designed to simplify communication, especially between spouses. Thus, all that is required is for both members to install this app. Then, the location of each user is shown on a map along with the most important places visited during the day. The app is ideal for anyone who wants to know loved ones' location as well as for those who simply prefer to keep track of the route traveled during day.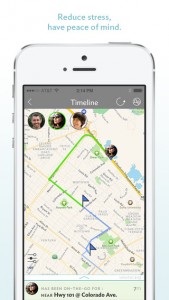 Features:
* Ability to Send Push Notifications Automatically
PlaceUs can automatically send push notifications between logged contacts for as long as one departs from a certain place or arrives there. Plenty of locations are included in the list and shown on the map, including home and work. Thus, users will be immediately notified of the location of loved ones.
* Detects and Remembers Visited Places
The app has the ability of automatically detecting and keeping track of all visited places. This feature is very handy for anyone who lives in a big city and would like to keep track of the activity performed during day. Along the information stored one will find place name, address, duration of the stay and date.
* Ability to Store Favorites and View them Later
With the aid of PlaceUs users can instantly add new locations to their favorites and thus be able to get their coordinates immediately for the purpose of revisiting them. Favorites can be added with ease from the list of traveled locations detected by the app.
* An Automatic Ranking of the Top10 most Visited Places
The app permanently keeps track of the top10 most visited places so that users can return to them whenever necessary. All data includes place name and address.
* Privacy Mode
With the aid of privacy mode users can control persons who can access their information and block undesired viewers. No one will be able to view application data unless permission is granted by the user.
Design and Usability:
PlaceUs benefits from an extremely pleasant visual interface which makes use of a fully-fledged maps. Users can keep track of their location at all times while also being able to stay in touch with connections.
Functionality and Application Performance:
PlaceUs performs very well on all devices running iOS 7.0 and above, such as iPhone 5 or iPad 3. No lags or freezes as to be noticed. The app is optimized for enhanced battery consumption, so users will not suffer from dramatically reduced battery life while the app is running. However, the app necessitates an active internet connection and location services. A prolonged use of the GPS module may further reduce battery level.
Summary
Overall, PlaceUs is a qualitative iPhone app designed for those who would like to stay in touch more and keep track of one another's activity. The app works smoothly and it has little effect on battery life. It can also be downloaded free of charge from App Store.
Price: Free
Rating: 4.5/5