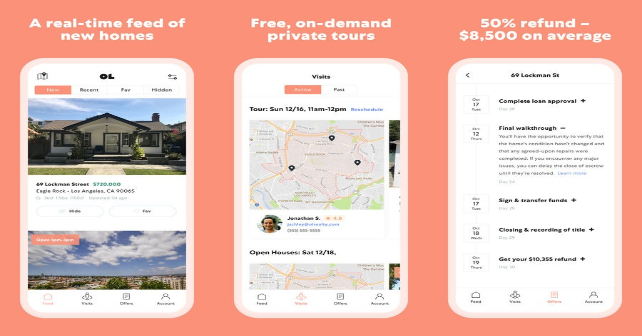 Have you been meaning to buy a home at present and want to widen your options as much as possible? Do you also want to get the best deal possible and save as much money as you can? If yes, then you'll surely find Open Listings to be one of the best apps that you can use when canvassing and purchasing possible properties.
What makes Open Listings such a powerful home-buying app is that it utilizes a live feed where users can immediately see and be informed of the latest homes that are currently being sold. A preview of the property will be provided, along with other pertinent information such as its address and current price. How long the property has been listed would be displayed as well.
If a specific property catches your fancy and wants to keep track of it, then you only need a tap on the Favorite icon for easy reference in the future. This would also allow you to get updates about it with the passage of time. When you tap on a property, you'll also be able to view further details about it, and even information gleaned from private agents regarding the property.
You only need to scroll down by swiping to view the options that are available, and you'll also find that the best times of the days to visit them would be displayed as well. Another remarkable feature of the app is that it allows you to book home tours online. This allows you to avail of the services of showing agents who would be more than willing to conduct the said tours with you.
These tours can be easily adjusted within the app. In fact, it keeps track of both active and past visits. In the Active tab, you'll be able to see a map of the entire tour with each property stopover precisely marked on it. You would also be able to view your assigned agent. The date and exact time of the tour would be displayed as well. The same goes for open houses, but these visits can be freely done any time you want.
You are even given the chance to chat directly with an agent, who would be more than willing to answer any queries about the specific property you might have.
Thirdly is the actual purchasing itself. The app gives you the ability to make offers simply by specifying how you intend to buy a property that you want. You get to set whether you intend to pay via cash or mortgage, for instance. What is your preferred percentage if you intend to make a down payment? Your offer will be submitted and reviewed by the app with the help of your assigned agent. He will do everything to help you close the deal and save as much on your purchase as possible.
Taken as a whole Open Listings is a wholly unique home-buying app as it streamlines your home-buying endeavors with its primary features. It gives you everything you need in buying pieces of property anywhere. It effectively serves as a meeting point for home-buyers, sellers, and agents, making it a powerful property-dealing app to have.
Price: $ Free