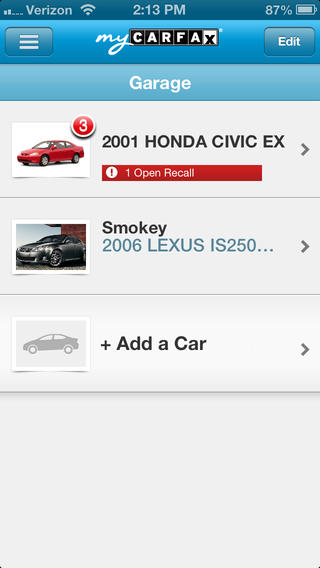 Countless mobile apps are designed to offer convenience for everyone. MyCARFAX is a dream come true iPhone app for car enthusiasts owning Apple devices. Car maintenance service is vital to keep every auto running smoothly and this app will make the whole process of finding a reliable service provider easier.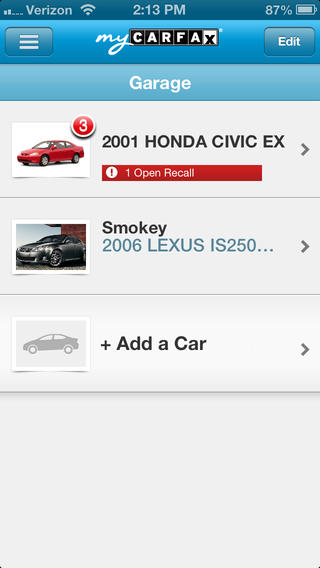 This app flaunts the following features that you will find beneficial.
Manage Service Details for One or Five Cars:
Whether you own a single car or five vehicles, myCARFAX lets you save their respective service requirements and histories, ready for access whenever necessary. Place each car's plate numbers and their profiles will be recorded individually, keeping specific service records the vehicle received.
Car information details stored include car make and model, which is vital for its other features.
Easy Service Search within the CARFAX Network:
The good thing about CARFAX is that a lot of auto service providers now use this program to connect instantly with their clients. If it is your first time to obtain auto services, CARFAX offers easy search feature that points you to different auto shops within its network. Choose the nearest or the most esteemed shop to work with only professionals in the field.
Call and Visit Service Shops with Ease:
Inquiring about auto services takes a higher level as this iPhone app gives you easy access to the shop. First, it has one-dial feature that lets you call a certain service provider for inquiries. Finding the shop is also easier since it displays directions in driving to the shop when you needed service.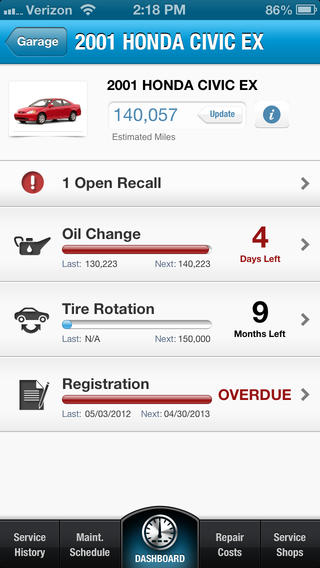 Read Service Maintenance Recommendations:
Your car will receive several updates from your chosen service provider when it comes to maintenance recommendations. They have records of your car checked at the shop and they will recommend certain services that your car may need. It may not be the service that you currently need, but you will have an idea about what services you can consider in the future.
Get Service Estimates:
Customers don't want surprises when it comes to auto services. myCARFAX Fax gives you an estimate of the services and have an idea about the money you need to spend. See the service details and prepare the amount that you should pay in completing the service.
Overall, this iPhone app ensures you will have the best auto service from professionals. Be updated with your car's services and find maintenance slightly easier compared to thinking too much about it, ultimately forgetting about repair schedules.
Price: Free
Rating: 4/5