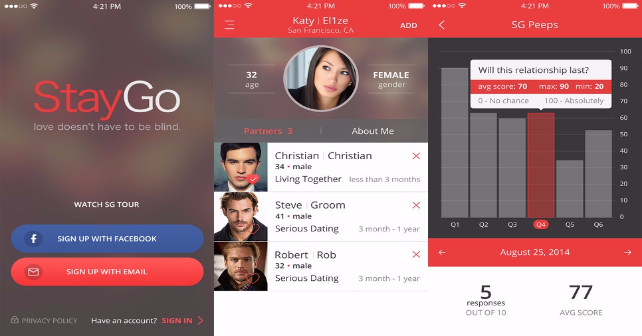 Love doesn't have to be blind.
With this tagline, you'd really be curious enough to know about the love and relationship app, StayGo. So if you're tired of constantly getting into wrong relationships or you simply can't find the spark in your own romance stories, then StayGo would be a must-try app.
Concept and Theme
Built with the question "are you with the right (or wrong) person?",StayGo helps you determine whether it's time for you to commit yourself into a relationship or quit going as a couple. It's a kind of virtual best friend that helps you evaluate your romantic relationships with superb accuracy – thanks to the collaboration of cutting edge relationship scientists and psychology professors who made use of science and rightly put it in an app.
Features
Backed by science, even StayGo's features mirrors its own unique approach in evaluating couple relationships.
• SG Score – this allows you to see your score with your partner and evaluate the future of your relationship by giving score to some aspects like your rate of your passion, your relationship timeline, and your need fulfillment to name a few.
• SG Tracker – with this feature, you can easily track down whether your relationship is getting better or worse by seeing a clear graph of your romantic up and downs.
• SG Peeps – if you can't make up your mind and you need some help, your SG Peeps can help you make the right decision. This feature helps you collect anonymous opinions from friends and families to help you decide what to do with your relationship.
• SG History – unlike before, you don't have to memorize your last SG Score anyore. StayGo will do all that for you using the SG History section.
• Redesigned tour –StayGo is an app that is very easy to use but it will still walk you through an app tour to help you get the most of the app.
Functionality and Usability
StayGo gives online dating a new and fresh take making it even more affordable and enjoyable. Daters can save their precious time and even their money to know their prospective dates more. It's unique on its own because it's stunningly accurate. The collaboration of media professionals, relationship scientists, and psychology professors made it possible for the app to evaluate relationships with great accuracy and saves a lot of people time and heartache in the process.
Design and Performance
StayGo is also an app with a tasteful design and works very well for couples. You don't have to worry about feeling frustrated with yourself or your date. You can easily use StayGo to help you with every critical step of dating relationships, having the next date, meeting your friends, friends, sleeping together, having your vacation together, moving in together, and ultimately, saying "I Do".
Unlike other relationship apps, StayGo is not just fun to use; it provides users with factual and helpful information they can use to improve relationships.
Price: Free