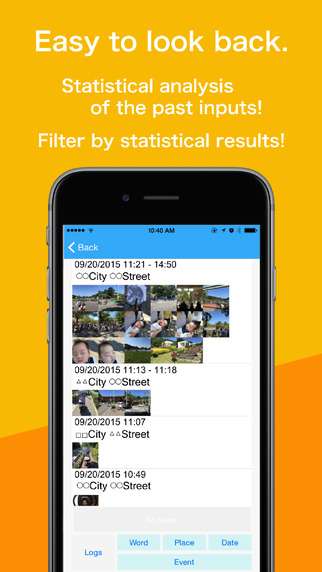 From the first moment of its use, it is clear that LifeSummary Camera+Memo application provides something truly special. As a combination of several simple stand-alone apps, it might seem that it is just a merger of things that already exist. But, the truth is that this merger provides something completely unique that is able to help its users in several distinctive ways. Using this app can definitely add a new level of functionality to anyone's life and here is why it provides this option.
As its most basic concept, the LifeSummary Camera+Memo app provides a platform for entering user's notes, records, visual ideas and anything else in a simple and integrated manner. As a platform that encompasses photos, notes, and memo inputs, it provides its users with a stable and reliable way of doing a range of things, from making everyday lists to capturing important ideas that can later on become essential business documents and other similar things. The additional organizational layer that the app offers is the ability to use keywords and categories for the labeling of each entry. This makes browsing and searching very easy. During the regular use of the app, the same labeling element is one of the things that really make the app exceedingly usable in practically any environment or situation.
When it comes to the app's user interface, it was designed to provide all that is needed in just a few touches of the screen. With clean buttons and a great layout, the UI can be handled using glances and it does not require a person to intensely search for the thing they are looking for. This allows for the Lifesummary Camera+Memo to be used while on the go.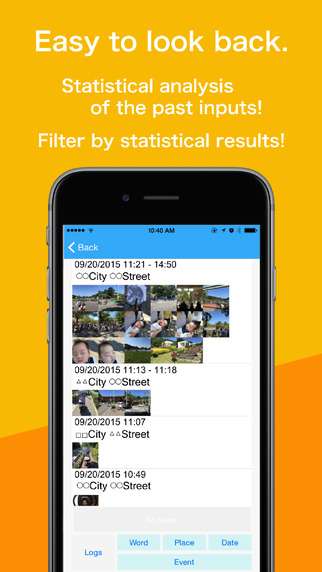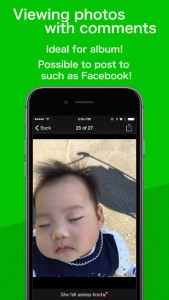 The app also comes with plenty of features. The feature of statistic calculation will provide users with reports on their behaviors and other relevant data from the app, including time stamps and other things. With this feature, users can learn a lot about themselves and how they spend their time. The feature of silent record will allow for easy recording in any place and at any time. The camera roll save feature allows for saving data to this partition of a mobile device. The summary browse function will allow for a simple search process while the feature of social sharing includes the ability to place content on Facebook and Twitter social networks.
All of these options and features make the app very versatile, but the thing which sets it apart from its competitors is its inherent ability to fuse images and words into a coherent piece of data. With it, people will be able to do whatever they want aftenrvard, knowing the full scope of details from just a single look on the LifeSummary Camera+Memo.
With an elegance that only comes from great ideas, this app is ideal for all those who do not want to forget anything. Using Lifesummary Camera+Memo app means having the ability to record and note everything important in a person's life.
Price: Free