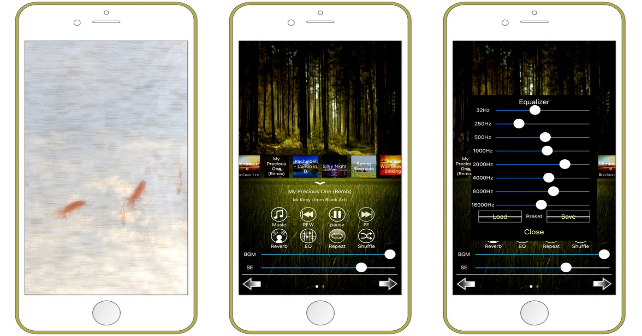 Finding the time to relax and mitigate the effects of stress on your daily life has obvious benefits to one's physical and mental health. This is why as much as possible, you should also be making the most out of what relaxation apps like Water Music have to offer. After all, what better way to spend your off-time than relaxing with the help of your smartphone?
Water Music does that by employing a mixture of interactive pictures, relaxing nature sounds, and soothing music. If for instance you choose an image with water in it, you'll find that you can actually make ripples on its surface and even get to see fish swim by occasionally. This is well-complemented by authentic sounds from nature as well as music either from the default selections or your own favorites.
Take note that you can download additional original theme packs made by the app's developers for free after you have purchased the app. On the other hand, you can also opt to upload multimedia from your phone's own medial library. Pictures, music, and videos are supported.
Another notable feature of Water Music is its built-in equalizer, which is well-complemented by the ability to add reverb effects to your chosen sounds. As you play a specific music, the playing interface is similar to a media player, where you can always choose to play, pause, rewind, fast forward, repeat or shuffle.
However, Water Music stands out with the addition of being able to adjust background music and sound effect volumes. You can also freely adjust settings in the Equalizer interface, and save or load presets that you prefer. The music is distinguished by its own album art, and the same goes for the ones that you choose to upload.
The expertise in relaxation and stress relief of the developers of the app could not be more apparent in the music and image combinations that they offer. If we are to compare Water Music to other relaxation apps, it stands out with features like the ability to download or add more music and pictures that suit your tastes.
This is, without a doubt, an aspect that a lot of users who are subject to bouts of anxiety every now and then would be more than happy to utilize. There are always specific images, sounds and music that help calm them down, and the vast selection that Water Music offers makes sure that they'll find that special combination in no time.
Price: $1.99