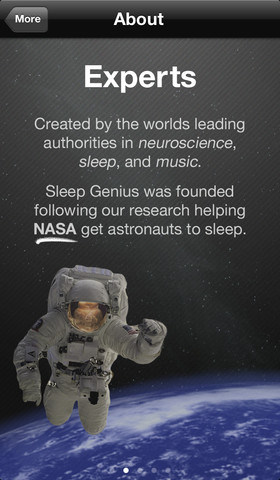 If you constantly battle at night, fighting to get mentally comfortable and achieve a deep sleep to help you feel revived for the next day, then this app is what you need.
At only $4.99, this is a price worth paying to get much needed rest. Sleep Genius Natural Health prides itself on not being just another gimmicky app offering fake noises hoping to put you in a deep sleep. Yet, this app has been developed to work directly with your brain, training it to establish natural rhythms to afford you the best opportunity to experience deep, relaxing sleep. You will achieve this faster and you will remain asleep longer when downloading this app.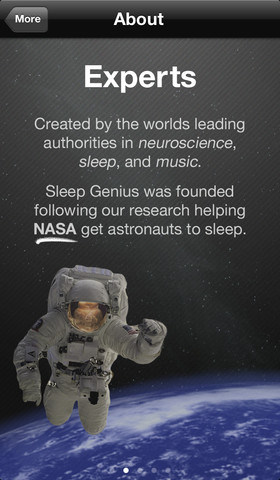 The developers were so committed to providing you with the best experience, they partnered with NASA as part of their research to understand what was required to put astronauts into a deep sleep. Imagine that. You are receiving an astronaut quality application for much less than the cost of flying into space.
In previous versions, there were a few challenges with bugs and performance. Version 1.1 offers a fix for all previous issues and an improved function to work with Bluetooth wireless devices (speaker and headset).
You can find this app in your Apple app store. Thus it's compatible with iPhone devices. However, it's been optimized for iPhone 5 users and will requires the latest iOS 6 update.
There are a few main features you can expect enjoy with this app and they include:
* Additional in-app purchases to help customize your experience
* 3 programs to help you find the perfect recipe to ensure you get the sleep you desire
* An alarm with a gentle setting to help you slowly awake from your rest. You will enjoy soft, tranquil sounds to help you start your day off just right
* A power nap feature to help you recharge throughout the day. Science says taking this nap will improve your ability to remain alert by up to 54%
* Graphics are clear and perfectly designed to set the mood for resting
* The app is very user friendly


There are several users raving about this app. They can't believe the amount of sleep they are not getting after downloading this app. Here's what they have to say:
* I have not been able to sleep for years. I'm so grateful for this creation.
* I love the power nap feature. As an expectant mom, it truly helps me get through the day.
* I can't tell you how helpful the customer service team was when I reached out.
 Price: $4.99
Rating: 4/5