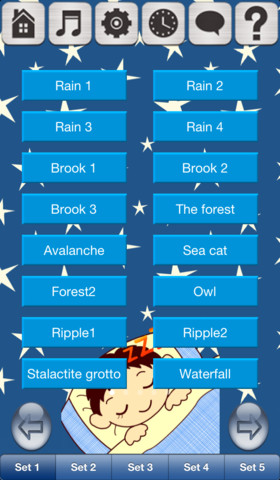 Human beings come across a lot of problems in their daily life. This makes us feel stressed and we often find it difficult to sleep. There are a number of different ways to fall asleep. Some people read storybooks while some others, especially kids, prefer to listen to stories. Listening to music is one of the best ways to relax and fall asleep soon. Here is an interesting app named Sleep application that works on a unique principle.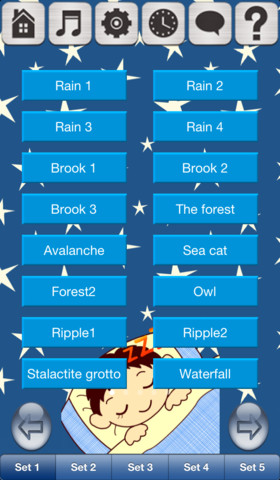 Sleep application plays music to help users fall asleep. The music played in your ears is of two different frequencies. The difference in these frequencies appear in the brain as a single frequency, making it enter a state of sleep. The app belongs to the Health and Fitness category in the App Store. It relieves you from sleep disorders like insomnia.
With Sleep application, you can select your favorite background music provided in the "Music" list. The app provides you with four different modes: sleep, relaxation, concentration and memory mode. Each mode serves different purposes. You can opt for the "Sleep" mode when you want to sleep and the "Relaxation" mode when you need to relax or meditate. The "Concentration" and "Memory" modes can be chosen when you want to concentrate on the work you do. When you pick your background music, you are allowed to change the volume, pitch, mode, and the playtime of the music.
Sleep application lets you set the timer by tapping on the timer icon at the top of the screen. You just need to set the time and press the start button. There are various alarm tones available in the app like Signal, Graceful, Alert and Ringer. The alarm settings option allows you to easily modify the alarm volume, switch the vibration sensor timer on/off and select the snooze time.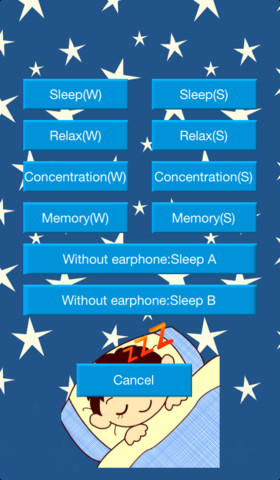 The vibration sensor timer is the most special feature of the app. It wakes you up from shallow sleep by sensing your vibrations. The app makes use of binaural beats that have the power to control brainwaves. People with chronic epilepsy and heart related illnesses should avoid using the application. To get the best output from the app, you should make use of high-quality headphones.
The app can be used by people of all ages. It has a colorful and attractive background. The description and guidelines available in the Help section let me handle the app without any hassles. I felt that the app's interface could have been designed in a better manner. Otherwise, Sleep application is a great relief to people who find it difficult to fall asleep.
Sleep application costs $0.99 and requires iOS 4.3 or later versions.
Price: $0.99
Rating: 4/5