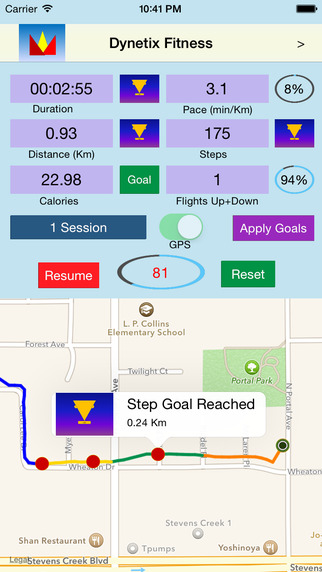 Dynetix Fitness is one of those applications that clearly show how far has technology advanced the area of fitness and exercise, especially when it comes to measuring activity. What was once the privilege of only the top athletes and sports competitors is now accessible to anyone using an iPhone or an Apple Watch.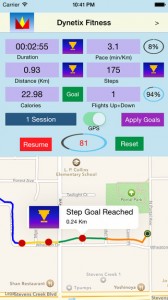 Available on iTunes for all iPhone and iPod touch devices that use iOS 8.2 or a later version, this app is a real powerhouse of fitness tracking. Its core concept represents a tracking app that is designed to keep a record of the physical activities of the users. By utilizing a simple interface and an abundance of different, but potent features, the same app is a dream comes true for any person looking to improve his or her results in their exercise regimes. The app's features include it tracks more fitness data than most other fitness devices and apps; it supports users defining progressive fitness goals and alerts users when each goal has been met while at the same time a badge is awarded to the user to highlight the achievement; and it provides detailed analytic reports, charts and messages to aid users analyze their fitness progress. The Dynetix Fitness provides a powerful, comprehensive and precise tracking, which includes a GPS—aided depiction of travel routes, but also enhances them with all the relevant data and does all this in real time. The customization options and the ability to change per user preferences is a convenience feature, which adds additional usability and personalization to the app. 
For people who wonder why pay for Dynetix Fitness when Apple already providing a free fitness app in IOS, the IOS fitness app only tracks users daily activities, whereas Dynetix Fitness precisely records users fitness data only for the time period of their workouts (e.g., from 9-10am). This renders Dynetix Fitness results more accurate in aiding users to monitor their fitness progress over multiple workout sessions that span weeks or months. Furthermore, Dynetix Fitness supports user-defined goals and records users exercise routes using GPS, and it provides more detailed analytic reports, charts and advisory messages, all those are not available from IOS fitness app.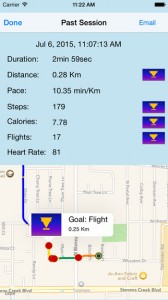 Of course, using the app with the Apple Watch is where the real potential of Dynetix Fitness lies. With it, Dynetix Fitness app essentially transforms Apple Watch into a Fitbit-like fitness tracking wearable device. Specifically, users can choose to use the Glance interface where a lot of relevant information can be easily found. The Apple Watch allows users to use the feature of voice inputs, which are ideal for active athletes who desire to change some of the parameters. Naturally, with the Apple Watch, many biometric factors like the user's heart rate are also available in real time and in the reports that are accumulated using Dynetix Fitness. At the same time, it is also important to underline that using Apple Watch with this fitness app does not drain the device's battery. Essentially, the system of combining the app with this Apple wearable device produces an effect that no other competition apps can even come close to.
With these excellent features and a powerful synergy with Apple Watch, the Dynetix Fitness app is a truly remarkable tracking system. With either a wearable or an iPhone, the same system can transform the lives of all those who regularly exercise or use multiple fitness routines.
Price: $1.99
Rating: 5/5