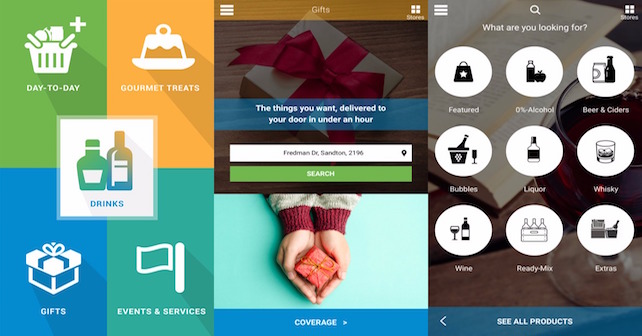 Doing last-minute grocery shopping has been one of the major hassles that people have had to put up with for a long time now. It can be extremely stressful and time-consuming, considering road traffic and the lengthy queues in the stores themselves. With apps like StockupApp, though, this decades-old issue would finally take a backseat.
Imagine being able to do grocery shopping within the comforts of your home or office. Have that tartar sauce you forgot last week delivered right at your doorstep or send over a bottle of red wine to a friend's party. This is but one of the major perks that this app offers. With Stockup, you would be presented with a plethora of various kinds of product from different stores that are available.
You only need to tap the main menu located on the upper-left portion of the screen to gain an overview of what the app has to offer. By tapping the Our Stores label, you will see the selections that you would be able to order (e.g. Drinks, Gourmet Treats, Day-to-Day, Gifts, etc.). Much like any grocery app, you may place your items in your Cart before checking out.
Another undeniably noteworthy aspect of the app is that it makes sure that the product would be delivered to you as soon as possible. The app guarantees that your items would be delivered to you within 60 minutes. Therefore, it prioritizes the stores that are nearby or within your local vicinity. Otherwise, you can opt to specify that you are in no rush to receive the items.
That being said, in order to be able to use the app to the fullest, you would have to set the exact address that you intend to have the grocery items delivered to. The distance is vital since it also determines your delivery charge. What's good is that the app always considers the stores nearest you when looking for the items that you ordered. Every order that you make through the app would be recorded, and the icing on the cake is that you are allowed to do real-time tracking of your current orders.
StockupApp is set apart from other grocery shopping apps with its focus on hyperlocality. It takes into great consideration the exact distances of the stores, making it more responsive to users who value their time when grocery shopping. Its support for a variety of exclusive stores is also one attractive and defining feature of this app. Ultimately, its value lies in aiding people with their day-to-day grocery shopping hurdles that really end up eating majority of their time.
Price: Free