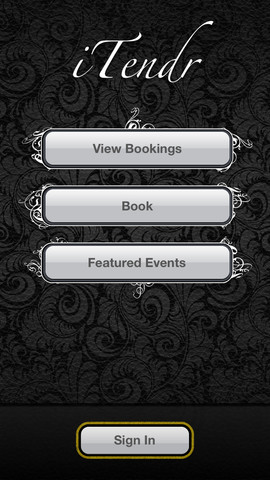 iTendr connects executive assistants to dining room managers with an ease that surpasses other booking applications such as OpenTable. By using this app you can stop calling restaurants for reservations, private dining and catered affairs in Vancouver and Toronto.
You can even book tables and catering services directly through iTendr. The app will show you availability, location, time, and other necessary information regarding the venue you need. The best part about iTendr is that it's free to all corporate bookers, and restaurants' membership fees are a fraction of the cost of other similar online services.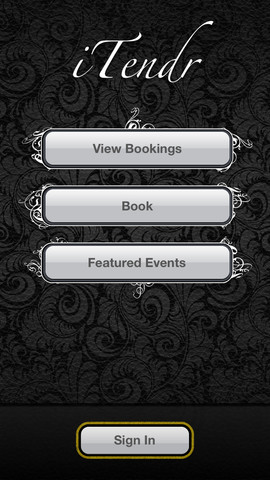 iTendr was released on April 24th, on the same day as International Administrative Professionals day with the goal of saving admins time and money when searching for restaurants. iTendr has certainly gone above and beyond with this goal, because their app is the most time saving and efficient app out there.
This app puts local restaurants right into your hands. It also makes government dining a breeze by finding you the best restaurants in town.
The Good:
iTendr is free for all bookers and easily connects them to the restaurants they need. The user interface of iTendr is sleek and modern. In addition to viewing bookings you can also view featured events, and book straight from your phone.
The Bad:
While using iTendr I wasn't able to find any glitches or shortcomings.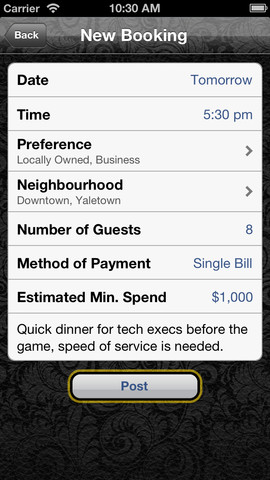 Conclusion:
If you're wasting your time calling tons of restaurants every time you need to book a dining solution, then you should give iTendr a try. Stop calling all restaurants in town, and out of town, just to find a couple of available spots. iTendr's reservations are priority over customers that come in at the door; so you'll always get the dining you need.
iTendr is revolutionizing the way executive dining is booked, and it's all free for bookers. Give it a try, there's not much you can lose.
iTendr Restaurant Reservations is an application created by Object7 Technology Inc. It is free and available on the iPhone, iPad, and iPod touch.
Price: Free
Rating: 4/5