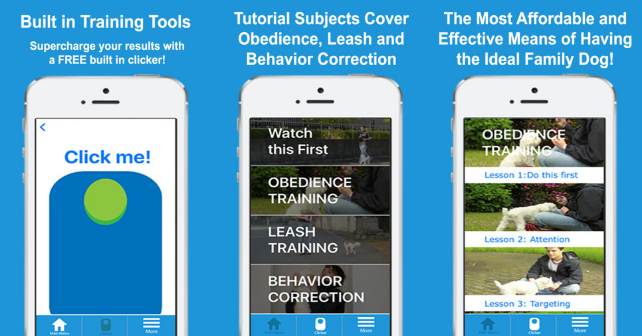 Dog training websites and references are readily available online, that much is for certain. However, you'll probably agree that it would be easier for you to train your dog if the videos and other reference materials are presented to you in a complete and fully organized manner.
Not only is this very convenient for the dog trainer, but also makes sure that you are actually training your dog the correct way every time. Indeed, if you want a dog training tutorial platform that would guide you all the way, then look no further than DogTrainingApp.
Don't let its seemingly generic name fool you, because this is practically one of the most comprehensive dog training platforms that is readily available to users at present. It's basically a collection of more than 30 excellent how-to dog training videos, which are evidently arranged by none other than a master in the field. Besides the standard training methods that lets you teach your dog to obey your commands, there are videos that also seek to tackle prevalent pet issues that dog owners usually have like consistent barking at neighbors, peeing and pooping anywhere, to cite a few.
The HQ videos depict an experienced dog trainer demonstrating fundamental methods that range from obedience training, to leash training, to behavior correction. The demonstrations is clearly where a lot of the app's value hinges since not only does it help you perform the training method better, but it also serves as ready evidence that the methods depicted really work.
That's only the tip of the iceberg, though, because the app also takes the liberty to point you towards the right training route to take with the advices that headline the videos. For instance, if you intend to start on a specific training method like Behavior Correction, then you better start with the video that is titled Watch this First' or Do this first'. No other alleged dog training app can rival this type of responsiveness that DogTrainingApp brings to the table.
DogTrainingApp is clearly made unique by its serving as an all-in-one platform from which you can view all the dog training videos that you need on hand. It's not a magic pill that is able to make your dog or puppy learn all that it needs to know. Rather, it's very generous in giving you pointers dog training tricks which are not readily available otherwise. This is why in order to make the most out of this app, you have to be equally dedicated to watching the videos and following the tips and instructions that they share.
Price: Free