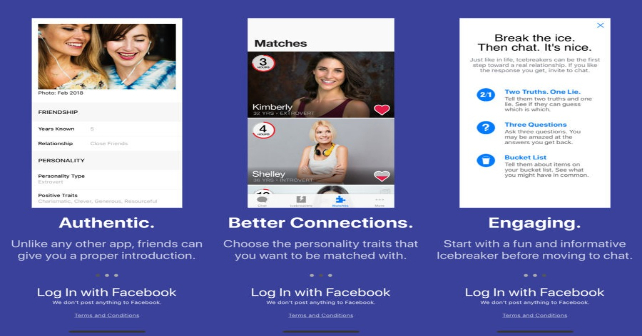 Dating apps – in order to be effective – need to pay attention to what users look for when they're relying on them on a regular basis. Most of the time users are all too willing to air their complaints. It appears the developers of DatingSphere are well-aware of this by providing users with solutions to the issues that permeate most of the popular dating apps you can use nowadays.
One of these common issues is the prevalence of people who give out false information about themselves. Authenticity is what a lot of people looking for suitable partners often prioritize when using these kinds of apps. Dating Sphere takes care of this by taking extra care in verifying that their users are who they say they are, via its original feature called the Sphere of Trust. This makes it easy for them to match you with people who share your interests, which would be explained later.
The app offers quick integration of your Facebook account into its platform. In fact, signing up using your FB account is actually the primary way to register into Dating Sphere. Afterward, you can begin creating and building your Public Profile. This is the page that others will see when looking for probable matches. This is also where you can input all the information you want to reveal to other users. In turn, you will be asked what traits and characteristics you're looking for in a person (aka your Want List).
Going back to the Sphere of Trust feature, it's difficult not to highlight it because it's practically where a majority of the app's value lies. This Sphere, which is available to all users, is composed of 10 people whom you trust the most in your life. They can be your direct relatives, close friends, etc, who will introduce you to each other. These people are also the ones who will verify the information you reveal to your matches and would actually directly influence how your profile will look to others.
When looking for a match, you can freely make use of the Match % as a reference of how a gauge of how suitable a specific user is to you based on your Want List. This is complemented by Compatibility %, which takes into consideration the Want List of the other user when compared to yours. This is what really makes the app effective in making accurate matches for you.
You will be notified on a daily basis of possible matches for you. Your first match will be given for free, but additional matches can be acquired by spending hearts. The app also incorporates an Icebreaker feature that lets both you and your match participate in icebreakers like Ask 3 Questions, Bucket List, and 2 Truths & A Lie.
Dating Sphere is not hard to recommend for the way it addressed a major issue in dating apps. Honesty and authenticity are nothing short of necessary in these kinds of apps and Dating Sphere is basically a haven of these qualities. All of its other unique features only make online dating more convenient for you, especially the communication aspect of it.