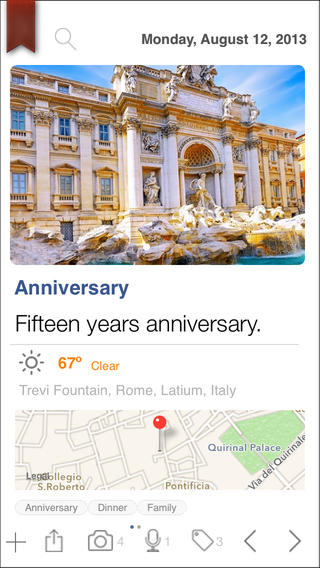 Certainly, records are precious. But the manner in which you keep them is what matters. There are many events that occur in ones lifetime, some of which bring joy, while others provoke nostalgic thoughts. But no matter the nature of the event, you still need to keep records, and this time, in style that's accompanied by photos, audio recording as well as tags.
The Dailybook (Journal/Diary) is an iPhone app that lets you keep your records in style. This special app supports multiple entries of events on a daily basis, plus it includes past and any future updates. The Dailybook is the ultimate app for iOS that every individual must have in their mobile devices. We explored some features of this app and we were really amazed. Let's see them below: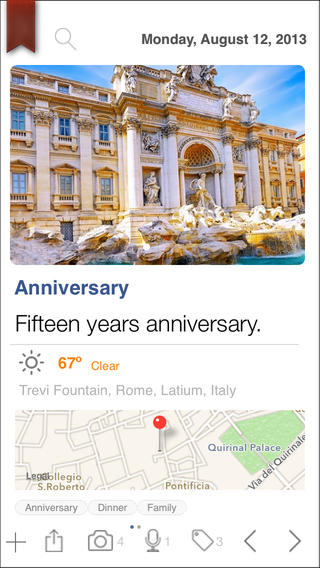 GPS Location with Map:
The geographic location of your event is really important. You want to be reminded of where it took place, and you also want to see the exact location on the map. It wakes up your memories. Furthermore, you can use this feature for general GPS purposes when out and about.
Backup Storage:
There is plenty of memory to store your digital files. Take advantage of Dropbox or iTunes file sharing app and see how convenient it is to digitally store records online.
Record Your Audio:
Alongside the written texts, you can also record audio sounds and incorporate them into your materials for later reference.
Calendar View:
No record is kept without an exact date in which the event occurred. But presenting the records in Calendar view makes it even more appealing.
Full Screen Mode:
Your device's screen measures 4'' and above. That means you only want an app that can open in full screen mode. This feature lets you view everything in one place.
Export Files to eMail:
Whether you are dealing with photos, audios and tags, you always have the option to export them to your email for convenience.
Share Your Records on Social Media:
This feature lets you share all your records on Facebook, Twitter and the rest. The process is simple and straight forward.
Password Protection:
The password protection feature lets you protect your content from unauthorized access. Your files are safe from interference.
Multiple Books:
This feature lets you store your records on multiple books for ease of identification. You can categorize your files according to their relevance.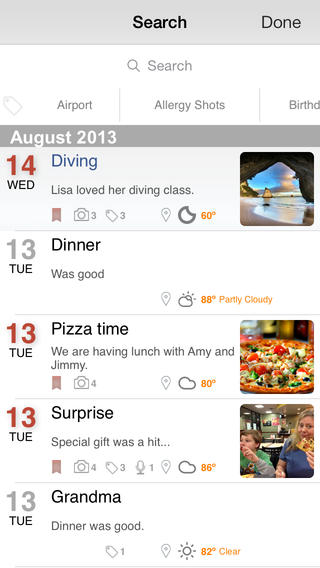 Tags by Keywords:
Have you always been bothered by digging into digital files manually? Take advantage of this feature and find what you need in real time.
Text Formatting:
You can play around with your texts by applying fonts, color, size or symbols. Then you can store your files based on the type of style you'd like them to be stored in.
Email Entry:
Email entry is provided in plain text, HTML and PDF.
Date and TimeStamp:
With Dailybook (Journal/Diary), all your records will be automatically time-stamped. You can easily see when you made entries, and the exact time in which those entries were made.
Bookmark Special Events:
Special events are made to be special. You don't want to miss them. Therefore, an app that lets you bookmark every single event is a must-have for your phone.
Photo Application:
You can directly view your photos the convenient way. They can be viewed in full-screen, zoomed in, and with caption. There are plenty of options to play around with.
Weather and Temperature:
This looks like a bonus feature of the Daily Journal. Just like the name suggests, it monitors the weather and temperature to give you accurate readings on the same.
This app is compatible with both the iPhone and iPad. So if you own any of the two, you can easily install it on your device.
Conclusion:
We haven't received any complaints from users yet. So we think this app is 100% efficient. And it's time to convert paper diary to digital format. Don't waste time when there's a better way to store your records. It's fun, easy and convenient. Try it today.
Price: $2.99
Rating: 4.5/5