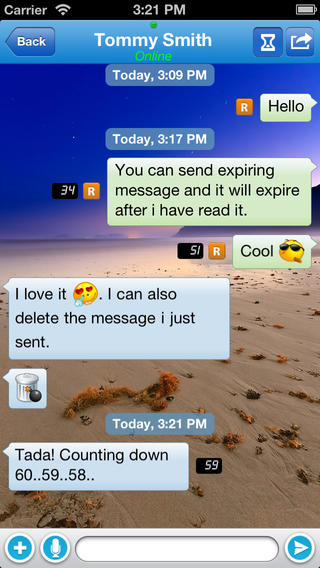 ccPing is a new app for iOS which makes chatting with friends more fun and secure than ever. With the aid of its innovative features one can now create an encryption tunnel between the messages sent and those received from a certain person, hence protecting them from the eyes of onlookers. What's more, this app also comes with innovative features such as voice messages, ability to set the messages to expire within a certain interval and many more, including an option to delete messages after they have been already sent. Here are the features that make this app stand out from all others: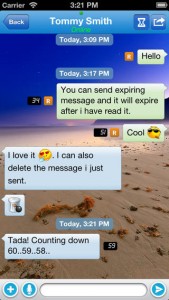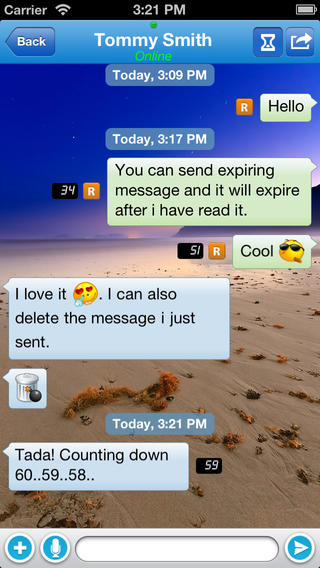 Works on Other Devices Too:
ccPing is also available for other devices asides from the iPhone. Thus, if your friends own a Windows-based computer, an Android device or a MacBook (app still in alpha version), you will be able to chat with them hassle-free. Nevertheless, the app works great between an iPhone and another one, and you will be able to use all features without worrying about the app getting stuck by any means. All what's needed is a device running iOS 5.0 or better.
Perfectly Secure Chat:
Choose a partner to talk to, set a password and the entire communication will be perfectly encrypted. No one will be able to see what's typed what in the private chatroom without knowing the password. Furthermore, one can easily chat with more contacts simultaneously.
Messages that Expire Automatically:
Asides from the password encryption, another interesting feature of ccPing is the option to send messages that expire automatically. Simply set the timer to a certain interval (such as 100 seconds, 250 seconds and so on) and the app will ensure that after this period no one will be able to read that message anymore. This features is useful for messages which carry an important personal value, important documents or photographs.
Delete Messages Remotely:
Sent a message and don't want the receiver to read it anymore? The app also enables users to delete a message not only from their device, but also from the receiver's device too. Thus, if you just sent a message by mistake or changed your mind thereafter, all what's needed to do is click the delete button. Then the message will disappear like it was never there.
Cloud Storage for Transferred Files:
Other chat providers such as Skype or Yahoo require users to have their devices turned on permanently once a file is being sent. With ccPing this is no longer a problem, as all sent files are stored either on ccPing's server or Dropbox, as per user's choice. Thus, the receiver will be able to access them whenever desired.
Summary:
In conclusion, ccPing is an app that certainly deserves to be tried by those who have problems with message encryption. Not only it provides a wide array of useful features, but it also enables people to send messages and voice memos completely free of charge (over internet/Wi-Fi).
Price: Free
Rating: 4.5/5