In the endless sea of messaging and communication apps, it is not an easy task to produce a platform that has a really appeal to the end users. BlueChatBox is one of those rare examples of how an elegant, simplistic design and a strong commitment to the usability can make an excellent mobile device application. Designed for the Apple devices, mainly the iPhone and the iPad, this app can turn the features of a simple chat into a very diverse communication tool.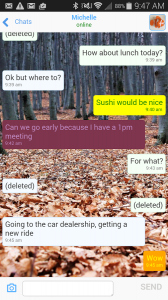 This app can be found on the iTunes service and requires a device that uses iOS 7 operating system or a later version. Its main concept represents a messaging client that is completely free. With it, users will be able to chat via text messages and video to their contacts. Because of its main theme, users will be able to save money on their mobile device bills and also get in contacts with the people that are located around them, which they might or might not know.
BlueChatBox is full of excellent features available to the users. It includes a feature of message translation, which will allow users to understand chat communication that are in languages they do not know, which is ideal for communicating with all corners of the world without any barriers. The app includes a feature of Temporary Friends. With it, users of BlueChatBox can connect with users, chat privately and communicate without revealing any sensitive data like their phone number. The same temporary friends will be automatically deleted after a period of inactivity. 
But the BlueChatBox features do not end here. Its features also include customizable backgrounds for the chat's visual environment and a wide range of emotions that can be used to decorate any message with appropriate emotions and feelings. The app also includes a feature of creating group chats, ideal for bigger groups of friends who want to stay connected. BlueChatBox also has a multiple choice when it comes to the status of the user, so everyone can clearly show how they are feeling by customizable icons that will be visible to other users. This, along with customization and emoticons, shows that BlueChatBox development team really cared about rewarding their users with flexible ways of expressing themselves.
But, in spite of all these features, the thing that really separates BlueChatBox from its competitors is the fact that it includes a simple and easy system for video chatting. This option is very valuable, especially when it is combined with the fact that the app is completely free. Using video chat will be a huge asset for all who want to stay connected with their loved ones and, in this case, nothing beats seeing those same people on an iPhone or an iPad.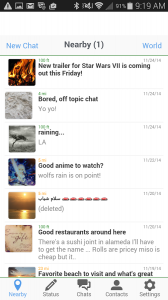 With an abundance of strong features and a solid basic concept, BlueChatBox is a very versatile chat and video communications application. By using it, anyone can receive a system of communication that will decrease any bill for a mobile device and also at the same time, offer additional ways of staying in touch with their family and friends anywhere in the world.
Price: Free
Rating: 4.5/5