Apps went beyond being entertaining programs as a lot of developers started to produce motivating apps such as Always BHappy. This iPhone app offers numerous features that contribute to improving a person's wellness.
Concept:
Developed by Ana Isabel Chimeno, this motivation app takes inspiration from "Se feliz siempre," a Spanish expression. The app has a set of proposals that will work as good challenges for individuals or groups of people. The user can opt to complete the proposal or not. More than just making yourself happy with quotes, challenges included in its proposals will also be helpful for other people who might need to uplift their mood.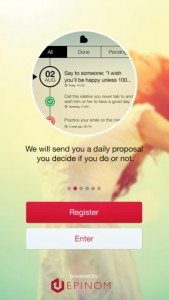 This iPhone motivation app offers the following features:
• Free Starter Proposals: Start taking challenges with the free proposals, but you have to pay for the Theme packs within the app. Remember that you can do the proposal or not. These proposals were created with aid from psychologists and communication, which makes them an effective motivating factor.
• Track Your Achievement: Mark the proposals you did and track your success. You will receive points and you can unlock achievements as you complete the proposals.
• Access More Proposals by Purchasing Them: Once purchased that pack becomes free forever. Aside from purchasing a single pack you can also get new sets of other packs like Sports, Fun, Food and etc., by purchasing them through iTunes.
• Improved System: The developer provides regular updates that fix the system to ensure superb performance. The latest updates include fixing a Report Error bug that many users experienced as they complete the proposals.
• Send Personal Challenges to Others: With the latest updates, users can now send their own challenges to their friends. Senders will be notified through email if the recipient completed a challenge from the proposal.
Unique Feature:
What make this motivation app unique is that it allows users to send their own proposals. They can personalize and customize challenges according to the recipient. This feature is new and something added with the latest update.
Performance:
This app is lightweight, which means it works fast and is responsive. Combining this with the known performance of iPhone ensures the app will work effectively.
User Interface:
The user interface is also clean and utilizes good background color. Its light background color together with some green shades makes it relaxing to look at, which contributes to your overall wellness.
Without a doubt, Always BHappy is a good app to use for motivation and improving your mindset in life. Include this app together with other motivation apps to feel better despite all your challenges.
Price: Free
Rating: 4/5