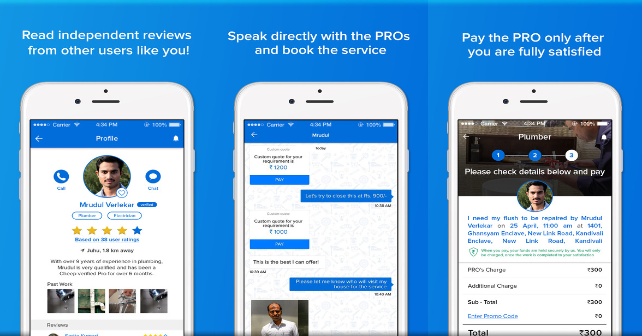 In our day to day life, we are prompted we the need to fix something at our homes, maybe a broken window, door, switch or even a water leakage. So, to fix this, we need assistance from a professional; not only a qualified person but also a reliable and trustworthy person. But do you know where you can get such pros? Relax, CHEEP has got you covered. At CHEEP, you will find qualified personnel who are willing to attend to your request at a reasonable price.
What is CHEEP App?
CHEEP is a home service mobile application geared to helping you find verified and trusted professionals to cater for all your home services. The main concept of CHEEP App is to provide you with the best home service solutions in the shortest time possible.
How does CHEEP App Work?
CHEEP works in a very comprehensive and simple way; even the older adults can use this app without trouble. If you have a certain task that needs to be done, here is how it goes:
 Download the app from App Store and install it on your device.

 Open the app and select the service or services that you need. You can briefly describe the type of job to be done.

 Select a date and time that you need the service done. Share a picture of the job to give the pro a humble time.

 From here, wait for PRO's to send you their quotes.

 View their quotes and select the most appropriate PRO for your job. You can chat with the PRO and maybe negotiate the price.

 Now sit back and wait for the PRO to come and fix it for you.
App theme
You will definitely love the new version of CHEEP. Personally, I was impressed by the brilliant and user-friendly interface offered by the CHEEP App; it makes everything look simple and direct to the point. Not to mention its clarity, the theme of CHEEP App is absolutely amazing and simple to use. The icons and color combinations tell me that a graphic designer must have been involved in the development of the App.
App features
CHEEP App has been engineered with smart features to guarantee you efficiency and job satisfaction. Here are some of the features that CHEEP offers:
i. Wide variety of services
CHEEP App offers exclusive services at your door step. Some of the services offered by CHEEP App include academic tutors, electricians, carpenters, baby sitters, drivers, Appliance repairs, cooks, housekeeping, laundry services, Makeup, Massage, fitness trainer and much more.
ii. User-friendly Mobile Applications with chat rooms.
What Makes CHEEP App Stand Out?
CHEEP App is taking our lives to the next level. Apart from the features, CHEEP has been equipped with added functionalities that assure us job satisfaction and happy living. Below are the functionalities that make CHEEP App stand out from other Apps of its kind.
1. Service warranty that comes along side the insured work
2. Verified and trusted professionals
3. Easy to use Application.
4. A variety of transparent job quotes
5. An emergency alert button guarantees your safety.
Final Verdict
We have looked at the CHEEP home service Application and exhausted its functionalities and features. For sure it is a great App that is transforming our homes into stress-free luxury places. Don't be left behind, grab the CHEEP App and watch your home grow!
Price: Free