Mobile devices like mobile phones come with their own alarms, but they have limited features. Nowadays, new iPhone apps like Alarmy (SleepIf U Can) comes with numerous features that make alarms more useful and effective for users.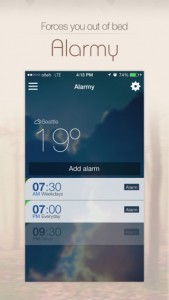 Developed by the Delight RoomCo.,Ltd., the app Alarmy (SleepIf UCan) is a well-regarded alarm app because of its effective features that certainly wake people up. In fact, this app is effective enough that it will force a user out of his bed.
What makes this app unique is it's rated by top names in the tech industry. Huffington Post, Cnet and Gizmodo named Alarmy as the "World's Most Annoying Alarm App". It also ranked number one in the category of alarm iPhone apps in different countries. These ratings and commendation are enough to trust this app for alarm needs.
Alarmy (SleepIf U Can) offers the following features:
– Turn Off Site Registration
Register to certain parts of the house or called the turn off sites. The designated site is the only place where the alarm can be turned off. This means users need to stand up, which will perk them up and wake up effectively.
– Innovative Build
This app works with the device's camera to turn off the alarm. Users need to take photos to the specific site before the app shuts down. It works seamlessly with the device's feature to guarantee users' satisfaction.
– Continuous Updates
The developer continuously update the app to fix accompanying bugs. New features are also added regularly to assure users will be up to speed with the new updates that make the app more useful.
– Easy to Use Interface
Despite its innovative technology, this app is easy to use with its clean user interface.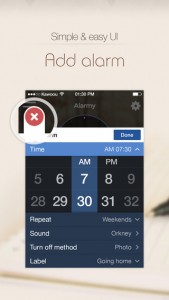 Functionality and Usability:
This app is useful for everyone who failed to get good results in their conventional alarm clock. Using this app is easy as users need to register at a place then take photos. Once registered, users will set up the alarm. When it reached the set time, the app will trigger the alarm, which can only be turned off by taking photos at the registered site. The developer recommends locations away from the bed to register to make sure users will be forced out of bed. Once successful, the app will stop the alarm and users are awakened to their set time.
Design and Performance
Its camera-integrated feature doesn't affect the app's performance. Its overall design is created with superb build that makes it work effectively for iOS 6.0 or later.
Alarmy (SleepIf UCan)is an effective app to use for everyone who conventional alarm clocks failed. It effectively wakes a person up using physical activity before shutting down the alarm.
Price: $1.99
Rating: 4.5/5