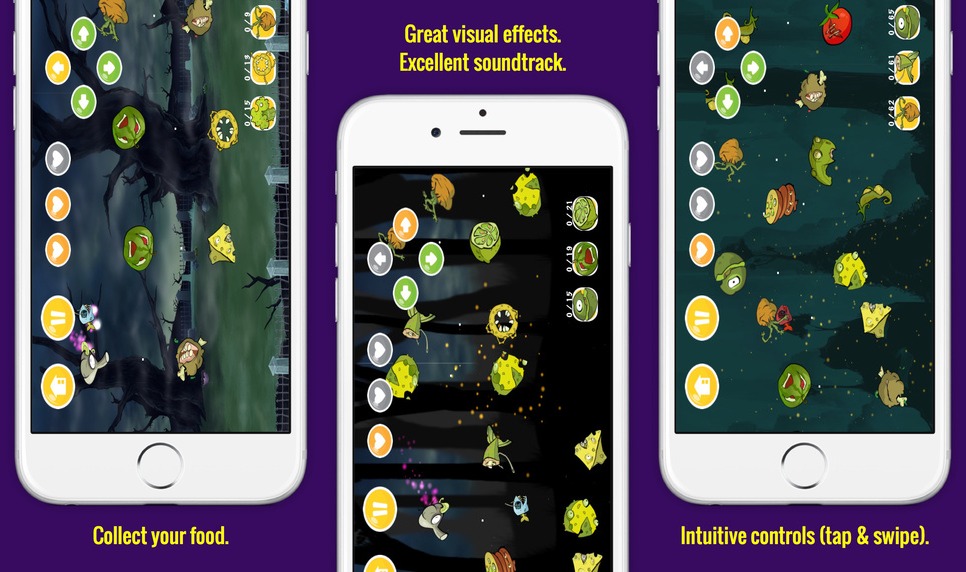 As a horror game with a cartoon vibe, Zombie Food is an app that hooks its players hard and it hooks them right from the get-go. In this side-scrolling, endless falling arcade, it is not only important to have fast fingers, but also to be able to calculate the upcoming elements in the right way so that the highest score can be reached. This way the zombie foods are not only a scary concept but also an idea that was transformed into a very fun game app.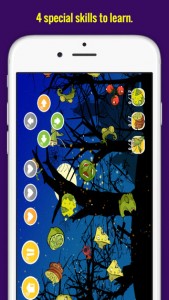 The Zombie Food app's basic concept represents the idea of an endless falling game which means that the game's avatar is constantly falling down as if under the influence of gravity and the action of the player are the only things that are returning him back into position. The players are represented by, out of all things, by a zombie anchovy, which inhabits a weird world of zombie watermelons, dead tomatoes, resurrected meatballs and corpses of cheese. In the waters of the Zombie Food, the players are to collect some of these while avoiding others, all with the purpose of progressing further along the levels.
As an action game, the app with this strange and eerie Halloween theme actually offers a very dynamic gameplay. In the first couple of minutes, the game eases the player into its macabre world of deceased foods and provides a great learning environment and intuitive commands. But, as the levels and chapters roll by, so do the challenges become larger and larger. At the same time, all of the chapters require a special task to be fulfilled so that the players can move inside of the game levels, making a clear and engaging motivation for anyone to get better. This is why Chapter 1 has special garlic that needs to be found, Chapter 2 features a shock of an electric nature, Chapter 3 offers invisibility and Chapter 4 includes a special twister attack and so on, all of which can be combined.
As for features, the app includes characters drawn by hand, providing a very stunning design, especially when it is assessed along with visual effects like fire, sparks and smoke. It features four special power-ups previously mentioned, which add to the game a different flavor each time. The app does not feature any in-app purchases and immediately unlocks the full potential of the game to those who buy it. Finally, the feature of a great soundtrack is something that adds to the game a distinctive feel.
The thing, which separates this app from any competitors, is its special powers that are available to the players. Other endless falling games reside on a single mechanic in its gameplay, while this game offers 4 possibilities. In each gaming session, this equals to more fun for a longer period for any player.
Zombie Food might have a Halloween theme, but as a full—bred action game, this app is reaching well beyond its spooky and cartoon visual style.
Price: Free