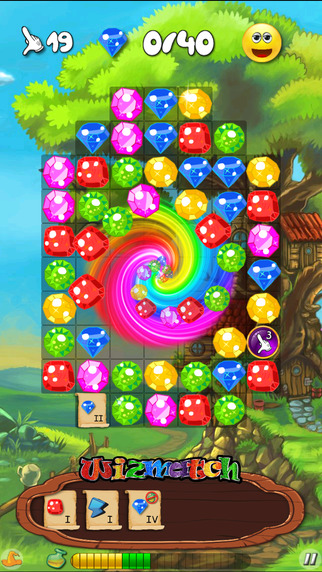 In the world of the game industry, it is always smart to combine already successful and established ideas into completely new and exciting products. Rampant Apps heeded this notion and decided to combine the concept of match 3 games and add to it a vibrant fantasy world of spells, magic and wonder, full of surprises for all those who dare to venture inside of it. The result of this approach is an iOS app called the World of Wizmatch and it currently represents one of the best fantasy match 3 games on the market.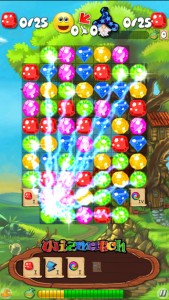 The app was developed for the Apple devices and it can be downloaded on the iTunes service. To install it, the app requires a device that operates using iOS 7.1 or up, which is really an impressive compatibility feature for a game of this magnitude. World of Wizmatch app can be installed on the iPhone, the iPad and the iPod touch. As its basic concept, the app represents a game in which match 3, puzzle challenges, and many more interactive elements are present of an adventure journey through the enchanting world of Wizmatch.
The game is based on the F2P (Free to play) model, where the players gradually advance through a map of the realm, playing match3, but also encountering wizards, magical creatures and spells that can help them on their journey. The app is completely free and it includes a range of special boosts elements that can be purchased easily within the game itself. But, those who wish to play without paying for any boosts can do this equally well, which is a perfect mix for any F2P game, providing the app with excellent usability levels.
The app features plenty that will provide gamers with hours of entertainment. First of all, in includes the two player battles that will test the skill and strategy of even the best match 3 players. It also features the multitude of game modes, like Orb Drop, Points Race, Fill the Cauldrons and Match Challenge, just to name a few, but it also includes surprise challenges and much more. With this interesting feature, the game never becomes boring or repetitive. Finally, the graphic design features of the game are so good that the players will have a hard time pulling themselves away from it.
Aside from all these advantages, the thing which separates this game from any similar F2P or matches 3 apps is its simplicity. While other games try to make their mechanics complicated and complex, Rampant Apps took a different approach and made the World of Wizmatch super simple. This allows the players to be fully immersed in every challenge, puzzle or match 3 battles in the game.
With superior design, a finely tuned balance between the different gameplay aspects and a simple system of user controls, World of Wizmatch app is the perfect blend of cheerful fantasy and matches 3 game genres.
Price: Free