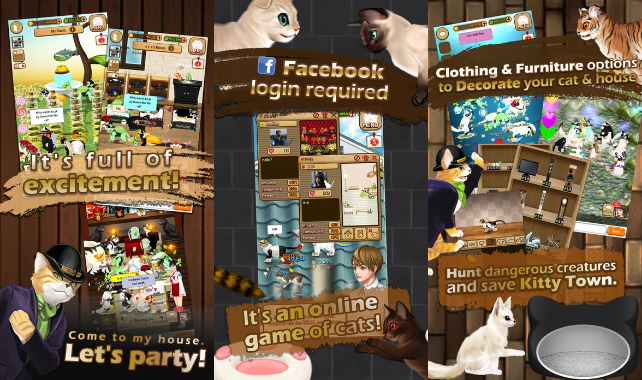 Created by Slow Puppy S Inc, World of Cats is an online game of cats that consist of a range of mini games. Currently available on both iOS and Android, it's not only addictive but also very exciting for kids. If you are a cat lover, World of Cats is a complete gift that will allow you to have your own virtual cats in your pocket device. You will also have an opportunity to interact with other users in a real time online environment.
Features :
· It's an open platform- Since it's an open platform, it allows users to communicate with other users through emoticons, guestbook, and chats. This means it provides a real time online environment for users to interact.
· Style them with different colors- In this game, you not only have an opportunity to choose your cat but also style them using different colors.
· It goes beyond being a regular game- This app is more than a normal game as it has various addictive and entertaining mini games.
· Has many decoration options- This app has many decoration options that allow you to decorate your cats and the rooms they are in.
How to play World of Cats
If you are using it for the first time, you should not be worried since it has a very useful guide that will help you play it. Here is how to play.
First, you need to sign in using your Facebook or Twitter account and agree to its user agreement and privacy policy. You need to create an online character that you will use when using the app. Once you have done this, a story will come up about the character that you've created. After you've clicked on several options, you will be directed to Jeje's room and if you like you can leave comments there.
While inside the house, there are different places where you can go to including the roof top. Besides, you can do several tasks using your cat such as hunting dangerous creatures, hunting pigeons and more.
Pros
· It's not only free but also have affordable in app purchase options.
· It has a variety of different cat games which make it one of the best gifts for cat lovers.
· It has an impressive interface.
· Apart from being a game, it also provides a platform to communicate to each other.
· It comes with lots of home decorations and cat decorations thereby providing the best treatment for cat lovers.
Cons
· Apart from not being so responsive, this is an awesome app worth trying.
What makes it stands
As compared to other apps, World of Cats is a free app hence you do not have anything to lose. Try it today and enjoy its amazing features.
Price: Free