This is the kind of app that you must try whether you are a crossword addict or not. I am a foreigner in China, and I'm looking to learn the local language as quickly as possible. This would mean reading many books, talking to the locals "a lot" to pick up on words and phrases commonly used, and the most dreaded part for me, which is doing crosswords to improve on my vocabulary. True, I hate crosswords but my boss assured me that this app would be of great help to me, and he was right!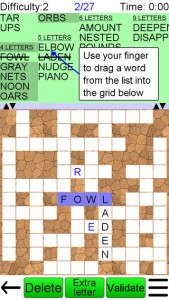 Word Fit Puzzle is just awesome; it has many features that make it suitable for everyone, and is also also quite addictive once you start playing it. The app is very simple to use. Just open it and the game is on. There is a grid that can be changed to your likes; you could choose the number of rows and columns. The words are very neatly organized on the sides of the grid for easy viewing. Just touch the word and drag it onto the grid to the section that you feel is most apt for the word. Remember that you are being clocked!
The trick that most people use is counting the letters and matching them up with the boxes on the grid. Before you drag the word down, also make sure you check the letters of the neighboring words above, below and on the sides to reduce your chances of being wrong.
You could also check your answers by using the 'Show Wrong' option below the grid. Of course, there's going to be a penalty. Make sure you do this only if you think you might be wrong. If you'd like to delete or change anything on your grid you could always highlight the portion in blue by just running your finger across the section and delete it.
The game is very exciting, and the additional benefit here is that you need not go through boring clues and spend your valuable time thinking on them. On Word Fit Puzzle all you have to do is select and drag.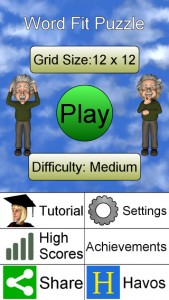 One of the best features that I have seen in this app is that you get to play the game in 24 different languages using your mother tongue to help you out with the meanings in times of need. Now, isn't that just awesome? The app has a built in dictionary that helps you with definitions and meanings of words you don't know. I couldn't believe the number of words in English that I myself was not aware of. The app is more than a game and can be used as a learning tool as well.
The app is just WOW and I could go on about it. I have had a lot of fun using the app and have to definitely thank my boss for encouraging me to improve my language skills. Word Fit Puzzle can get you hooked in no time and you must definitely give it a try if you are a regular crossword player.
Price: Free
Rating: 4.5/5