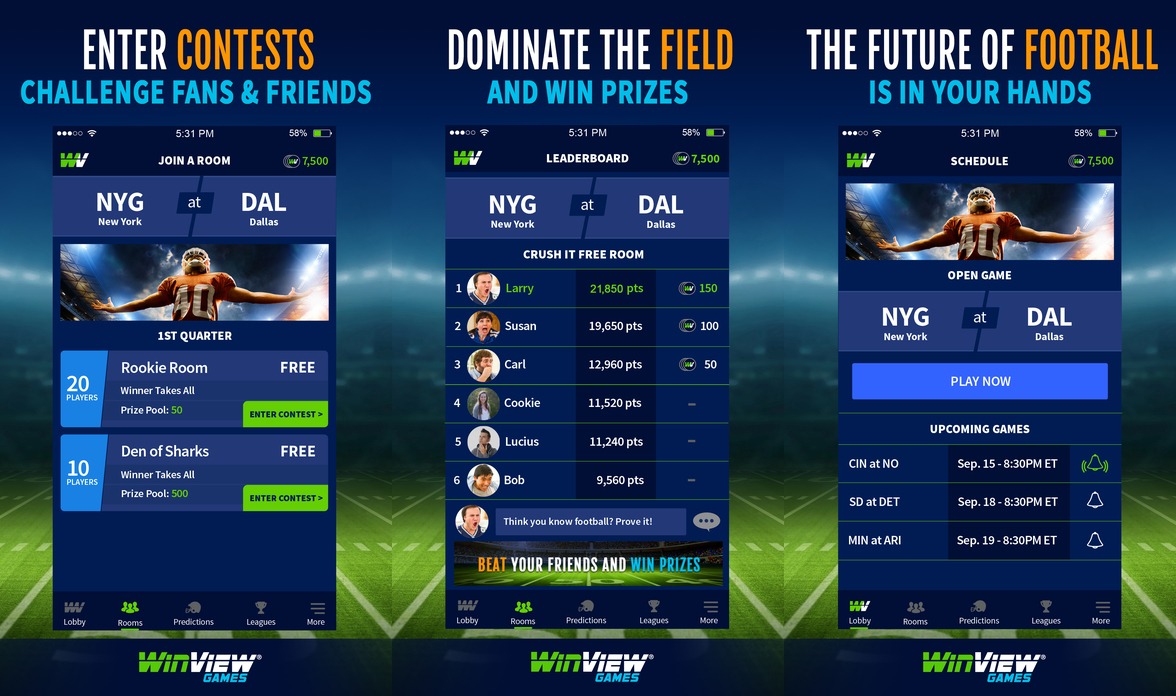 Predicting the players' actions and outcome of football games undoubtedly makes watching them more fun and entertaining, especially if you do it with your friends. If anything, fantasy football doesn't offer this kind of excitement, unlike live football predictions. This is why if you prefer to be completely immersed in the action of every game (as undoubtedly what die-hard football fans want), then you probably prefer the latter. That being said, you would definitely also love what the WinView Games app has to offer to its users.
First, you are asked to register an account through your email or you can login with your Facebook account instead. Once this is done, you may now start browsing for live contests that you can enter. Every live game's quarter has its own specific room (e.g. Rookie Room, Den of Sharks) for gamblers. Each one has its own winning conditions and prize pool; you may also notice that most rooms have FREE tag in them. This is because the app allows you start for free, rewarding you with a set amount of points upon starting. Users would be rewarded with real cash prizes in every contest, though, as guaranteed by the developers of the app themselves. 
The predictions that you make involve very specific aspects of the live game. What's good is that these predictions are presented to you in the form of questions (up to 20 questions would be given to you in every contest you choose to enter), and you can answer them with a simple Yes or No by tapping on buttons that bear these words. Betting denominations (250, 500, 750, and 1,000 points) have their own buttons as well for easy setting by users. 
Would one team be able to score a touchdown on this particular drive, for instance? On each of the said buttons a multiplier would be readily shown, which corresponds to the total amount that would be multiplied to your bet once your prediction proves to be true. The more points you earn, the higher you'll rise in the leaderboards, which in turn, equates to higher earnings. If you're ranked 3rd to 1st in your chosen room, after all, you would earn WV credits, which have monetary value. Know that every room has its own leaderboard and resets in every game. 
Many apps that deal with predictions, regardless of the ones that focus on fantasy football, apparently lacks the live aspect of WinView Games. Most of them only ever deal with predicting the results of every game, which is why this app is certainly a breath of fresh air for avid football fans who like to predict in games, compete with friends, and win a little cash on the side. 
Price: Free