Wild Animal Quiz is an interactive animal quiz app for kids to select the right picture of the animal based upon the sounds. Kids love animals and especially they are attracted towards the animal sounds. A very basic puzzle game that can potentially improve the listening skills and memory power of your kids.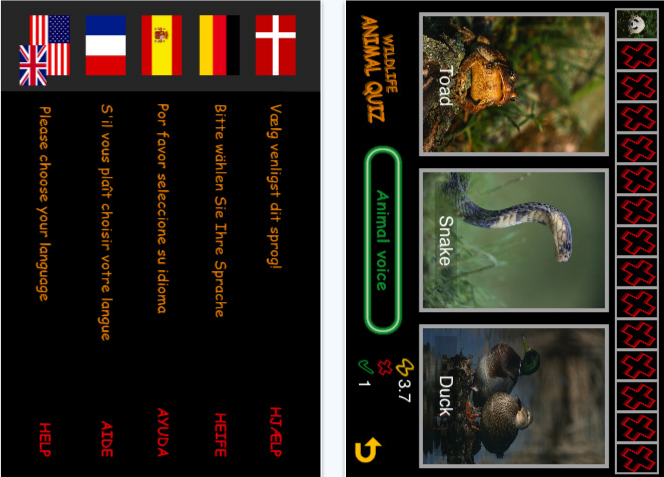 rel="nofollow>
The opening screen of the app asks you to select between five different languages available. Selecting your preferred language takes you inside the app. Once you get inside the app, you are requested to start off the game by pressing the 'animal voice' button. As I mentioned earlier, the quiz is about matching the voice with the picture. There will be three pictures to spot and match the voice of the animal and based upon your answers you will be rewarded with a trophy at the end. The app can be used among kids to challenge their memory skills by calculating the time taken to answer all the correct answers. By this way – Wild Animal Quiz is quite helpful for parents to sharpen the grasping skills of their children.
The quiz contains 15 image from a total of 20 images in the game. For every new attempt the images are shuffled to provide a new feel. Wild Animal Quiz is meant for kids aged between 2-8 years old, even the graphics and its gameplay are simply build for kids to easily understand and play the game. For a guy like me, who plays lots of iPhone games on a daily basis – there is nothing so good about this app.
At the end Wild Animals Quiz is not a satisfactory app to my expectations, but your kids would love to play. Price at $0.99, its worth of spending some bucks for an educational apps and I believe the future update would have a polished interface added up with more levels.
Cost: $0.99
Rating: 3.5/5

rel="nofollow>