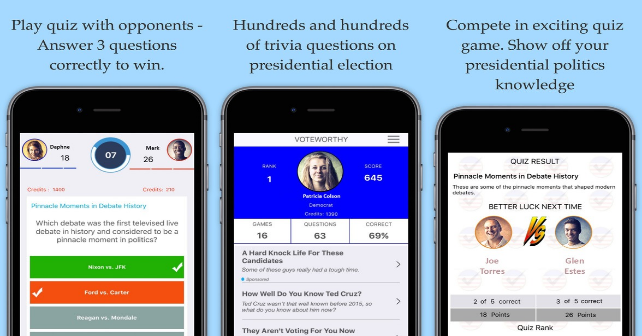 With the 2016 US presidential election drawing close, everyone loves to compare different presidential candidates in order to decide on the better one (who deserves their precious vote). In this scenario, a quiz game based on the political trivia about the US history, democrats, former presidents and GOP will provide you endless fun. Voteworthy is one such game app created exclusively for political enthusiasts. It keeps you engaged with its in-depth quizzes about Donald Trump, Clinton, Sanders, etc to help you decide whether they are vote worthy. Furthermore, it is a multiplayer game that allows you to compete with other players across the globe and test your knowledge about US politics.
Features of Voteworthy:
A major part of Voteworthy's quizzes revolve around political gaffes, US presidential history, presidential candidates and the promises made by them. The most thrilling aspect of the game is its "lifelines feature" that helps you gain an advantage over your opponent players. The app has a huge variety of political topics to choose from and test your skills.
How To Play?
Once you download and launch the app, select a quiz from its home screen. That's it, you are all set to play with your competitors from anywhere across the world. In every quiz, you need to answer three out of five questions correctly to get a higher score. Both you and your opponent player are allotted 12 seconds to answer each question. When you encounter a tough question, you must use one of the lifelines provided to you. Lifelines such as "Crowd Selections" and "50/50" greatly help you in answering the questions quicker than your opponent. As you keep on winning each level, you collect more points and will be given a higher rank.
Compatibility:
Voteworthy is compatible with iPad, iPad Touch and the iPhone but needs iOS 9.0 or later version. The size of the app is just 40.8MB, so it doesn't occupy a huge amount of your internal storage. Since the game's simple interface isn't resource hungry, your device doesn't slow down when you keep Voteworthy open in the background.
Voteworthy's interface looks simple yet very elegant. The new version 1.4 has a few bug fixes and some information about the upcoming quizzes. Also, the app differentiates between the new quizzes and the ones you've played already.
Bottom Line:
Voteworthy offers you an opportunity to compete with others interested in the US Politics, especially the 2016 presidential election. Overall, it is a very entertaining app that surely keeps you engaged for hours.
Price: Free